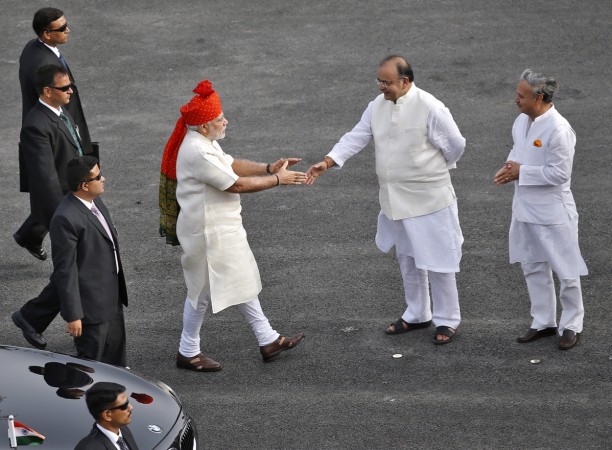 India's Finance Minister Arun Jaitley on Thursday met Prime Minister Narendra Modi over the appointment of the new Reserve Bank of India (RBI) governor. With less than a month to go for Raghuram Rajan's exit from the central bank, a decision on his successor is expected anytime soon.
It is believed that the prime minister and finance minister deliberated on various names as possible successor to the out-going RBI governor, the Hindu reported.
The Prime Minister usually chooses the RBI governor after consulting the finance minister. This time, the two would also decide on the next RBI governor's tenure.
The meeting between Jaitley and Modi took place at the prime minister's residence. On being asked about the announcement, Jaitley told reporters: "We will let you know when we decide. You will come to know about the conclusion, not the process."
In June, Rajan had surprised everyone when he announced his decision to return to academia when his three-year term ends on Sept. 4. This ruled out the possibility of Rajan opting for a second term.
Possible names
There are four possible contenders, who are currently being considered (to replace Rajan). Of them, three are RBI experts and one is a commercial bank chairman. Of the three RBI veterans, Dr Urjit Patel is currently the deputy governor at RBI, while the other two — Rakesh Mohan and Subir Gokarn — were former deputy governors at the central bank.
The fourth is Arundhati Bhattacharya, current head of India's largest lender, State Bank of India.
Some of the other names that were doing the rounds earlier included, Niti Aayog's vice Chairman Arvind Panagariya, former finance secretary Vijay Kelkar, Ashok Lahiri, who was a former chief Economic advisor, and Ashok Chawla, who at present is the chairman of the Securities and Exchange Board of India.
On Aug. 9, Rajan in his last independent bi-monthly policy statement had left the policy rate unchanged at 6.50 percent.