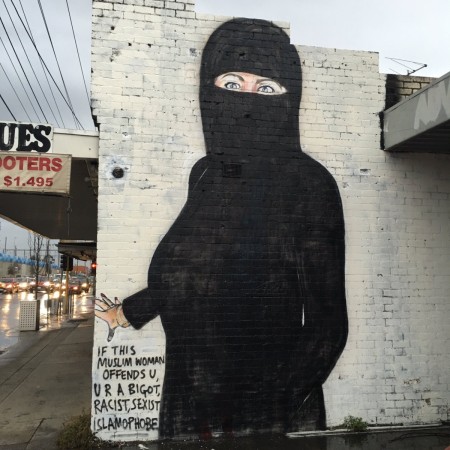 A provocative, semi-clad mural of US presidential candidate Hillary Clinton in Melbourne, which invoked the ire of the local authorities, has now been painted to look like she is wearing a veil.
The creator, a Melbourne-based street artist, made the change to the mural after being threatened with a hefty fine by the Melbourne governing council.
Click here to see the NSFW orignal mural deemed 'objectionable'.
Maribyrnong council said residents complained about the mural, 5km west of Melbourne, painted on the side wall of a scooter shop in Footscray, which depicted Clinton wearing a skimpy swimsuit, with $100 notes tucked in it.
"We believe that this mural is offensive because of the depiction of a near-naked woman, not on the basis of disrespect to Hillary Clinton, and it is not in keeping with our stance on gender equity," Stephen Wall, the council chief executive, who believes the mural contravenes the council's gender equity policy, told the Guardian.
Maribyrnong council said that after consulting Victoria police, they decided that the mural is in contravention of the Graffiti Prevention Act 2007. The council ordered the owners of the building to remove the mural and threatened them with prosecution and a fine if they did not comply with its order.
The artist, known as Lushsux, also had his Instagram account, which, he said, had approximately 110,000 followers, deleted after the image was posted on the social media platform.
"It's hard enough to be an artist. To lose your social media following in this day and age is a big loss," Lushsux told Melbourne Radio.
As a response to the council, Lushsux covered up the skimpy swimsuit by painting a niqab over it, leaving only Hillary Clinton's eyes showing.
Next to his work, he painted the message: "If this Muslim woman offends u, u r a bigot, racist, sexist Islamophobe."
Lushsux had also drawn a mural of the two opposing presidential candidates, Donald Trump and Hillary Clinton kissing, and captioned the tweet, saying, "When you are both peices of sh**, but it works."
Apart from Clinton, Lushsux also painted a mural of a naked US Republican candidate Donald Trump, as well as a naked mural of his wife, Melania Trump. Lushsux later added Trump's face over her breasts and added Hillary's face over Trumps Genitals "so as not to cause any offence."
Related
US Presidential Elections 2016: Will nude photos of Melania harm Donald Trump's campaign?
Why is this Indian village thrilled about Hillary Clinton's Democratic nomination? [VIDEO]
No man or woman more qualified than Hillary to serve as US president: Barack Obama