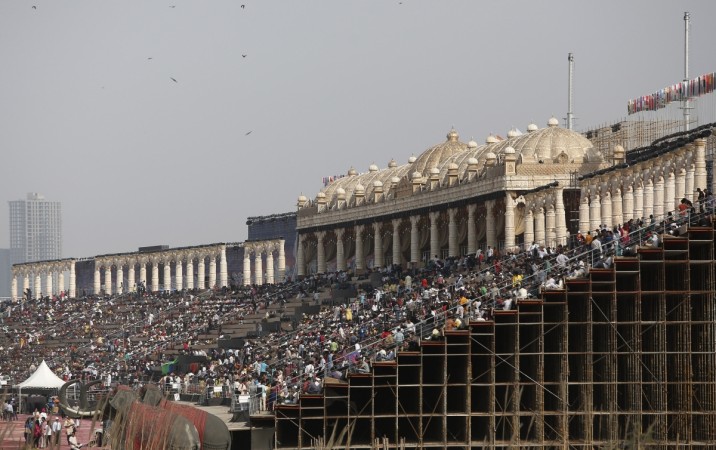 The Art of Living Foundation on Friday paid the remaining amount of an environmental compensation it was charged for damaging the Yamuna floodplains in New Delhi, reports said on Monday. The foundation on Monday said it did not damage or pollute the floodplains when it prepped the area for its mega World Culture Festival in March, according to India Today.
The National Green Tribunal (NGT) had rejected the foundation's application for submitting the remaining Rs. 4.75 crore of a Rs. 5-crore environmental compensation under Section 15 and 17 of the NGT Act in bank guarantee. The foundation paid the amount in demand draft on Monday, Hindustan Times reported.
The green court had rejected the foundation's plea for submitting the amount in the form of bank guarantee on May 31. The court had accused the organisation of trying to escape paying the amount.
"We don't agree with the observations of the Tribunal. The Art of Living foundation has neither polluted air, water nor earth. We have left the WCF site in a better condition than what we had got. We have an extensive repertoire for environment work and find these allegations unacceptable," the foundation had told the International Business Times, India, in a statement after the NGT's rejection.
Union Water Resources Minister Uma Bharti on Sunday had "thanked" Sri Sir Ravi Shankar's Art of Living (AOL) Foundation for beautifying the site in question. She had also said the land had become cleaner, and suggested using the area as a park.
"This site has become cleaner, has turned into a levelled ground, trees here have not been cut, while stretch of bushes have been cleared, which required to be cleared," Bharti was quoted as saying by the Press Trust of India.
Meanwhile, the NGT on Monday prohibited vegetable and fruit farming on the banks of the Yamuna, India Today reported.