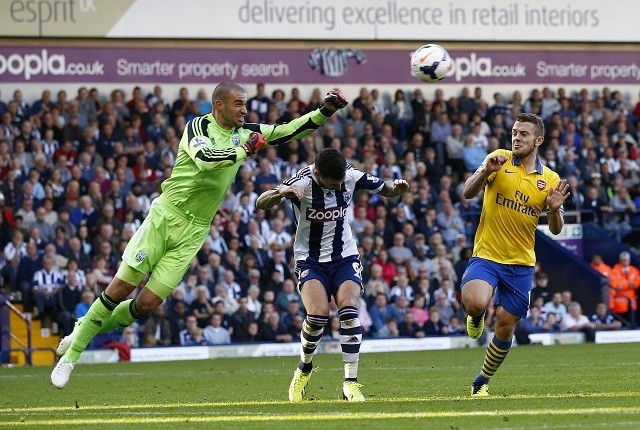 Arsenal manager Arsene Wenger was filled with pride as well as regret after seeing his side come back from a goal down to draw 1-1 with West Brom in the English Premier League.
The Gunners were far from their best at the Hawthorns on Sunday, but a determined second half performance led to them earning at least a point, thanks to an equaliser from Jack Wilshere.
"I want to win but if you ask me if it was a fair point over the 90 minutes I would say yes," Wenger said. "Why? Because we were 1-0 down just before half-time and straight after halftime (Nicolas) Anelka misses a chance for 2-0 and that would have made it difficult.
"After that I have some regrets because when we came back to 1-1 in the last half an hour we had the chances to score a second goal but we have shown spirit to come back and we did give it our all until the end to try to win.
"But they did as well and they have many players who can provoke one against one on the break and run with the ball so they made it difficult for us and they defended very well. West Brom confirmed today why they won at Manchester United because they have good pace in every position and they have a huge squad."
The goal was special for Wilshere, who broke a long drought in the Premier League, having scored his previous one way back in November 2010.
"At least that (drought) is done now but he had a difficult first half where he was fouled a lot but he has shown that he has character and kept going until the end," the Frenchman said. "It's good that he was rewarded.
"He was pushed over a lot. I don't think there was any dirty fouls on him but he was pushed a lot and didn't get the fouls. I think in the second half he gave some great balls to score where we had chances. Overall he had a very good second half.
"I don't think he will ever be a goalscorer but he is a player who can create chances for others. In our job it's quite simple, you need players who score and players who give the ball to those who score. He is more in the second category than the first.
"But of course from the second category you want a few goals so it's good that he knows he can score goals. Let's not forget that we had the same problem with (Aaron) Ramsey a while ago and suddenly once they start to score it comes naturally."
Ramsey was one of several players who had an off-day, with the midfielder not his usual goal-scoring, penetrating self.
However, the pleasing aspect will be the fact that despite being sub-par for much of the game, Arsenal still found a way back to come away with a point, a point that keeps them at the top of the table going into the international break.