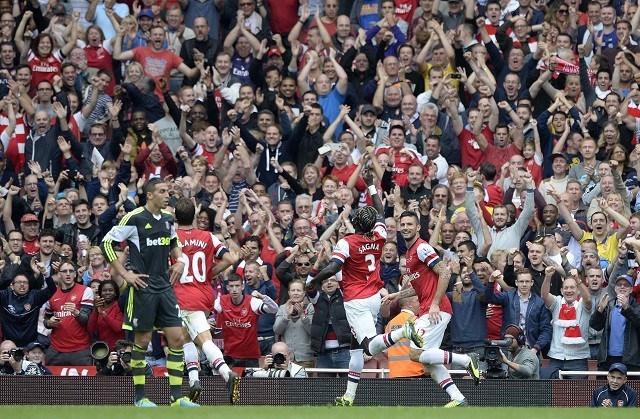 Arsene Wenger was impressed with his side's ability to dig deep and produce the desired result time and again after Arsenal went top of the English Premier League table with a 3-1 win over Stoke City.
The home crowd at the Emirates were treated to another brilliant performance by Mesut Ozil, who had a hand in all three of Arsenal's goals, with Aaron Ramsey continuing his tremendous start to the season with the opener.
Geoff Cameron equalized for Stoke, before Per Mertesacker and Bacary Sagna headed home from setplays to hand Arsenal another three points.
"We were in a position where we could take advantage of our home game and we did it," Wenger said. "We had two (different) halves, the first one was fluent, we did well going forward. In the second half we looked jaded physically and lost our game a bit.
"In the end we lost our technical quality but we have shown again another aspect as well, that we can dig deep and fight when we are a bit under pressure. When the third goal went in, we just kept the result. It's been a positive, very good week for us because we won in Marseille, we won in Sunderland, we won today (Sunday). Overall it was a very positive week."
The surprising aspect of the result was that all three of Arsenal's goals came from setpieces, something that they are not known for and something that their opponents Stoke are extremely strong at.
"When you play against Stoke you don't expect to score three goals from setpieces and that is basically the biggest surprise to me today," Wenger added. "It shows as well how important the delivery is.
"He (Ozil) is a player, when you look at his numbers, the assists are not a coincidence, it's just the reality of his game. I believe that once he is completely integrated we'll see even more of him but he has shown today that he is a great player."
Wenger, though, was not ready to go as far and say the signing of Ozil have made Arsenal title contenders.
"Look, it's not only him," he said. "He gave a lift to everybody at the club and, for the rest, it will be the quality of our teamwork and our teamplay that will decide that.
"The only thing of our position at the moment is that we are in a position where we can focus on improvement in a stable environment, so that's a good basis. For the rest, (in) the table everyone is mathematically together."