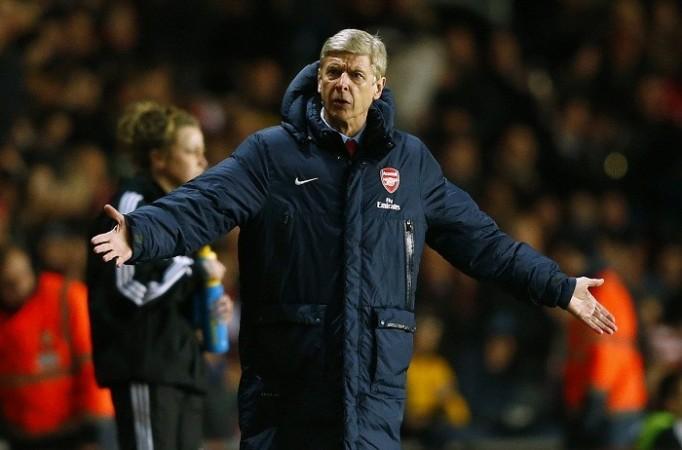 As Jose Mourinho continues to target Arsene Wenger with his "mind games" the Arsenal manager chose to keep his counsel of the Blues manager's latest comments, saying he was more embarrassed for Chelsea than anyone else, after the Portuguese called the Frenchman a "specialist in failure."
Wenger had said Mourinho was playing down Chelsea's chances of winning the title, despite sitting top of the table, due to his "fear of failure", to which Mourinho responded by launching a scathing attack on the Arsenal great, by pointing out the fact that Wenger had not managed to win any piece of silverware for over eight years.
Of course, Mourinho did not take into account that Wenger had lost big players time after time during that eight-year spell, with the Arsenal manager handcuffed when it came to spending money owing to the fact that the team had moved into a new Stadium.
Mourinho might have won a cup or two during a similar spell, but there is little doubt that the Portuguese, taking his career into account, would have even stuck around at a club like Arsenal with a seriously limited budget and unable to do anything about losing the best players to other clubs every summer.
Talking to reporters after Arsenal's 2-1 win over Liverpool in the FA Cup fifth round, Wenger refused to be drawn out on the comments made by Mourinho.
"I am embarrassed for him, honestly," Wenger said of Mourinho. "First of all, I would say that I didn't speak about him at all in my press conference, and I have no more to say... I am more disappointed for Chelsea than for me.
"I am not interested in the subject at all, and that is really genuine. If you are interested, and you have nothing better to do in your life, you are free to do it.
"But honestly, I cannot force my interest in things that are not interesting for me. I love football and I'm sorry to disappoint you, but what interests me is what happens on the pitch."
On Saturday night, Mourinho, sounding more and more like a petulant child, blamed the media for portraying him as the bad guy, rather than Wenger.
"It's your [the media's] fault," Mourinho said after Chelsea went down to Manchester City in the FA Cup. "It's always the same guy who is the bad guy.
"You like it that way. One is polite and the other one is the bad guy. I'm not surprised."
Mourinho is actually quite popular amongst the English media, with the reporters clamouring for his "quotable quotes" unlike in Spain where he was far from revered.
One person that does not like Mourinho or his antics too much, though, is former Arsenal goalkeeper Bob Wilson, who said the comments made by the former Real Madrid manager on Wenger was "disrespectful and despicable."
"I think at best it was disrespectful, at worst despicable to be so dismissive of a genuinely good guy and a footballing man I think, whose presence in England in 17-18 years has opened eyes and ears and created wonderfully entertaining sides," he told BBC Radio 5 Live.
"It's obviously not the first time Mourinho has singled Arsene out. He called him a voyeur which is a disgusting claim and thankfully on that occasion he -- although belatedly -- he did apologise.
"I think it's personal, he is a hugely talented, amazing manager Mourinho but I find -- at this moment -- I find him boring.
"To say West Ham play 19th century football, to give Manuel Pellegrini the abuse he has. This is a weekend when we honour a gent -- Tom Finney -- I don't like bullies."