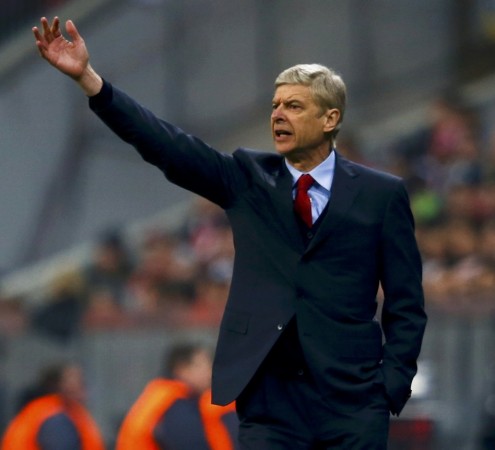 As Arsene Wenger heads into his 1000th game in charge of Arsenal, you inevitably look back at the past 17-and-a-half years, of which the first half was incredibly successful, in terms of trophies won, and the second one certainly not.
But ask Wenger himself of which achievement he is more proud of - the first 500 games, when he took Arsenal to several Premier League titles and made them a European force to reckon with, or the second 499 games when he struggled to hold onto his best players as Arsenal coped with having to pay off huge debts which came with building a new stadium?
"When I one day look back I will certainly be very proud of what I have done [in the second half]," Wenger told Arsenal Player. "This was a trophyless period but a much more difficult and sensitive period, where it needed much more commitment and strength than in the first part of my stay here.
"I went for a challenge that I knew would be difficult because we had to fight with clubs who lose £150 million per year and we had to make £30 million. On top of that we had to stand up with people telling us we had to beat them.
"Look, if I ask you tomorrow to race with Usain Bolt and win the race, you'll realise quickly it is difficult.
"I accepted to stay here a long time knowing that we had little chance to win the Premier League, but I think now we are in a position again where we can fight with other clubs to sign big players. I think we can be proud of the consistency of our achievement at the club."
Yes, the barren days when every summer inevitably brought out a high-profile exit or two does seem to be behind Arsenal and Wenger, with the future, emphasised by the club record £42.5 million capture of Mesut Ozil from Real Madrid last summer, looking a lot rosier.
The future will brighten up considerably more if Wenger can inspire an Arsenal victory over Chelsea in his 1000th game, at a ground where Jose Mourinho has never lost in the English Premier League, with the Portuguese also unbeaten in all competitions when up against the Frenchman.
So, all the odds stacked against Wenger going into the big Chelsea vs Arsenal encounter at Stamford Bridge - maybe just the way he likes it. "It makes you feel 'where did the time go?'" Wenger said when asked about how he felt going into his 1000th game as Arsenal manager. "It looks to me like I started yesterday, I can't believe it is such a long time.
"Why? Because you're always focused on looking forward to the next game and when you look back you think I made quite a distance there. Despite that, your only interest is the next game, our drug is the next game, the hope for the next game, the desire to win the next one.
"You go step by step and finally when you look back it's a long time. I would just like to say for me it's an honour to manage a club of this dimension for such a long time and I would like to thank everybody who is involved in the club for giving me such a confidence for such a long time."
Having managed so successfully for so long, one might think Wenger would have mastered the art of the sport; not quite according to the Arsenal legend.
"You learn from every game," Wenger added. "You learn more from the lost games than the games won. Certainly because you go into deeper analysis, you question yourself more, you question the players more and you learn basically the most from the higher the level goes up, the more you see the limitations of your team and your players.
"You learn the most in the biggest games when the pressure is there, when the talent is against you and when the pace of the game is at the top, top level. This is where you learn."