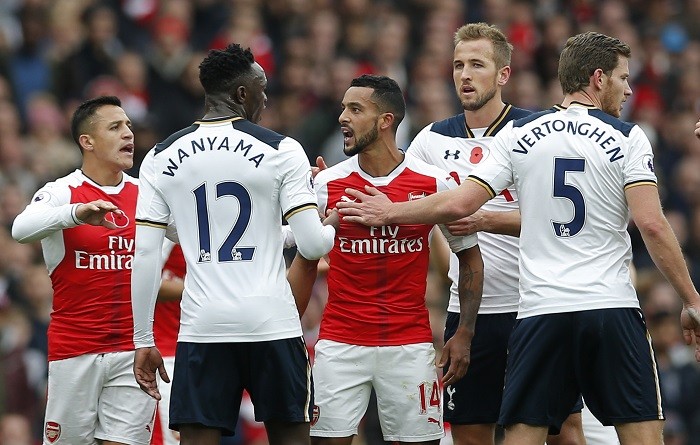 Another Premier League match against the local rivals that left Arsenal with the feeling of "We should have gotten more out of that game." After a disappointing 1-1 draw against Tottenham in the Premier League on Sunday, Arsene Wenger admitted his side only have themselves to blame, even if he felt a bit of leniency in Spurs' favour from the referee might have also worked against the home side.
After taking the lead through an own goal from Kevin Wimmer, a controversial one, Arsenal might have easily gone into the dressing room leading 1-0 and a man up at halftime. But, Victor Wanyama escaped even a yellow card from the referee Mark Clattenburg, after the Kenya midfielder seemed to catch Theo Walcott with an elbow.
Wanyama, despite a number of infractions after that as well – there was another one on Walcott, which saw the usually calm Englishman lose his cool – ended the game without a booking, much to Wenger's consternation.
"He was very lucky to stay on the pitch, of course," Wenger said of Wanyama. "There were a few fouls, the elbow on Walcott for example. But the referee makes the decisions and we have to cope with that."
The Arsenal manager, though, was quick to point out that, even with 11 vs 11, his team should have done better, especially in the second half, where their creativity in front of goal went missing.
"Nobody stopped us scoring a second goal [but ourselves]," Wenger added. "It was a game of high intensity where I felt in the first half we looked always like we could score every time we crossed the halfway line and in the second half we looked a bit more flat physically, a bit more less sharp and we couldn't find the creativity, the fluency around the box nor the vision we are used to.
"I think our level dropped and we were a bit too stretched as well. Spurs defended well on some crosses in the final 10 to 15 minutes. Maybe the result is fair."
That doesn't mean Wenger was satisfied with the result, because the Frenchman knows this was a game Arsenal really should have taken all three points from, particular considering that carrot of top place in the Premier League table was dangling invitingly. However, looking at the bigger picture of "the league is about 38 games and coming out on top in May, not November" Wenger believes the point against Spurs, who equalised through a penalty from Harry Kane, might prove to be a decent one.
"We always want to win these games," Wenger said. "It's very disappointing to not get the win with our home support. These games hurt me more than any other game. When you look at how tight the Premier League is and the teams that are fighting for the Premier League, you probably think this is a good result."