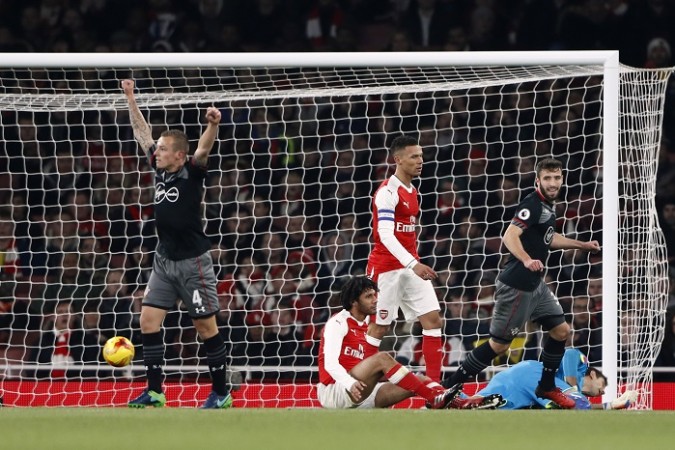 Arsenal had one of those days again, where finding a way past a well-marshalled defence looked just about as likely as Nicklas Bendtner returning to the club. The unbeaten run that started with the opening day defeat to Liverpool finally came to an end, as Southampton played some slick football, took their chances and then shut up shop to brilliant effect in the quarterfinals of the EFL Cup.
The Gunners would have faced Liverpool in the semifinals of the tournament formerly known as the League Cup had they shown better defensive and offensive resolve, but instead Arsene Wenger was left with that "I don't know how to explain why we played so badly" press conference to do.
Jordy Clasie opened the scoring for Southampton in the 13th minute, before Ryan Bertrand ensured Wenger would have a difficult halftime speech to make, doubling the Saints lead in the 38th.
Arsenal did not find any rhythm in the second half either, failing to trouble the Southampton defence enough and Saints manager Claude Puel would have wondered if this match was indeed being played at the Emirates.
"It was not good enough and we paid for that," Wenger said, summing up the performance quite well. "It's not only a disappointing night because we are out, but it's a disappointing night because the performance was disappointing.
"I question our urgency level, our focus from the start on. Overall, I think that is the most disappointing. It can happen that you go out of the competition, but our first 45 minutes were just not good enough and not at the level of required concentration. In the second half we responded well, but overall for me, that's the most disappointing."
Southampton will now play Liverpool in a two-legged semifinal, while Arsenal contemplate returning to winning ways when they travel to the London Stadium to face West Ham. The Gunners, who rested their big players like Alexis Sanchez, Mesut Ozil, Laurent Koscielny and Theo Walcott, are three points adrift of leaders Chelsea and cannot afford another such performance at the weekend.
Watch the Arsenal vs Southampton highlights HERE