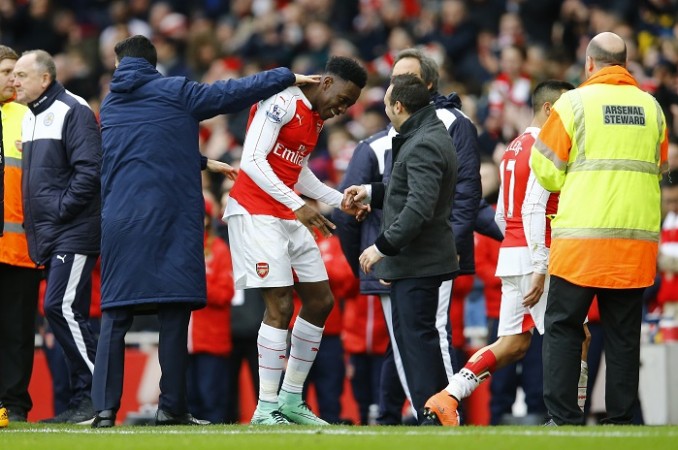 Danny Welbeck described the feeling of scoring a last-gasp winner against Leicester City as "wonderful," as Arsenal stayed in the title race with a dramatic 2-1 win over the league leaders.
Arsenal were staring at a defeat with 20 minutes remaining in the match, a defeat which would have put them eight points behind Leicester, but substitute Theo Walcott scored an equaliser in the 70th minutes, before Welbeck, another player who came off the bench, fired in the winner in the fifth minute of stoppage time to cut the gap at the top to two points.
Playing in his first game of the season, Welbeck could not have asked for a better comeback.
"It was a wonderful feeling to get that winning goal at the end," Welbeck told Arsenal Player. "It was just very important for us to get the three points. With the type of game it was, it was close right until the end and thankfully we got the goal."
Welbeck admitted he had little idea about the crazy celebrations that followed the 95th minute winner, with the Arsenal forward running towards the fans in the front row as one teammate after another piled up on top of him.
"As soon as I saw Mesut line it up, I just tried to get myself into a nice position, in behind the line of defence," Welbeck added, describing the goal. "Thankfully it came in my direction and I got the right glance on it.
"I don't even know what I was doing [afterwards], the facials were going crazy! I've seen a couple [of pictures] and it was just euphoria after I jumped in the crowd."
The England international endured the most frustrating phase of his career, after a knee injury kept the former Manchester United forward out for 10 months. Making his first appearance since April, Welbeck could not have asked for a better present.
"It's been a long time off the pitch, the longest period of time that I've spent off playing matches in my career," Welbeck said. "It's difficult, and with a few headlosses along the way.
"I think you've just got to try to stay positive. I had a lot of great help behind the scenes with the medical staff and with James Haycock, who worked with me personally and was great. I think hard work eventually pays off."
It all might have been completely different, though, had Wenger stuck to his initial plan of easing Welbeck back into the first team fold for next weekend's FA Cup match. However, after seeing the 25-year-old look sharp in training in the two days leading up to this vital match, Wenger changed his mind, and to some effect.
"In the last two days he was convincing in training," Wenger was quoted as saying by the club's official website. "I planned at the start, when I made my press conference on Friday morning, to play him next week. But in the last two training sessions he was very strong and I decided just in the end to include him in the squad.
"it was a great decision because Danny Welbeck is a great player, and you never know in our job if somebody else had come on would he have scored or not. But everybody is extremely happy for him, because he has been out for 10 months, that is an eternity for a player.
"We work very hard, our medical team, our fitness team, to bring him back so strong. Let's not forget he had not played one minute for us, he has just played 45 minutes in the under-21s."
Watch Danny Welbeck's dramatic late winner below
And Welbeck and Walcott's post-match interview: