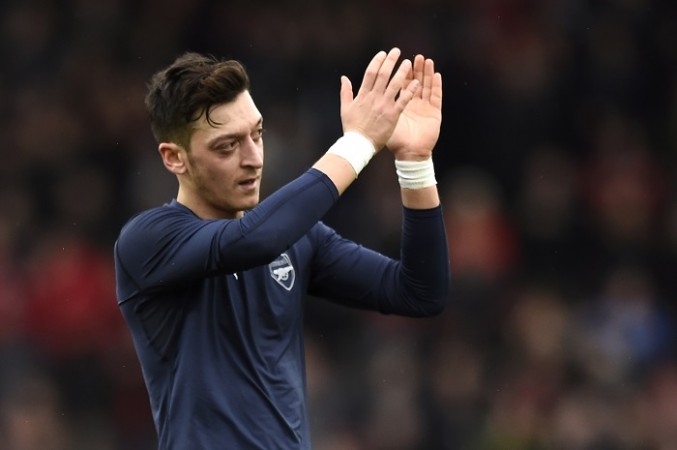 There are just three days to go for what could be the Premier League defining weekend, when Arsenal host Leicester City and Tottenham pay a visit to Manchester City.
One of these four teams will win the Premier League title this season, with Leicester in pole position at the moment, five points clear of Tottenham and Arsenal and a further point ahead of Manchester City.
So, when Arsenal welcome Leicester to the Emirates on Sunday, Arsene Wenger's men can only really afford one result – a win. The last time these two teams met, Arsenal, after an initial hiccup when Jamie Vardy -- of course he did -- scored, found their scoring boots in a 5-2 victory.
Alexis Sanchez was the star of the show in that match in late September, scoring a hat-trick, but come Sunday, it could be Mesut Ozil who makes the difference. The Germany international is having a stellar season for the Gunners, laying on assists left, right and centre, while chipping in with a few goals as well.
Ozil's opener was vital in helping Arsenal snap a four-match winless streak with a 2-0 win over Bournemouth last Sunday, and you feel if the home team are to find gaps in a Leicester defence, which has stood strong of late – the league leaders have conceded just three goals in the last eight games in the Premier League -- the German will need to be at his best.
Arsenal function like clockwork when Ozil is dictating the pace of play and attacks, and the key will be to ensure the 27-year-old gets into the swing of things right from the opening whistle.
"Mesut was always a special talent and you could see that when he arrived here," Arsenal midfielder Tomas Rosicky told Arsenal Player. "He was out for some time last season so he couldn't find his rhythm, but now, after playing since the start of the season, everyone here can see [how big a talent he is].
Of course, Ozil alone will not be able to win a match against the best team in the division so far this season. He will need willing runners and players who can put the ball in the back of the net when chances present themselves.
Quite often this season, Arsenal have failed to take those early chances, which has then come back to haunt them. So, making sure they give Ozil as many options as possible and then ensuring that final pass is finished off into the back of the net will be key to closing the gap on Leicester; otherwise, this season could run away from the Gunners.