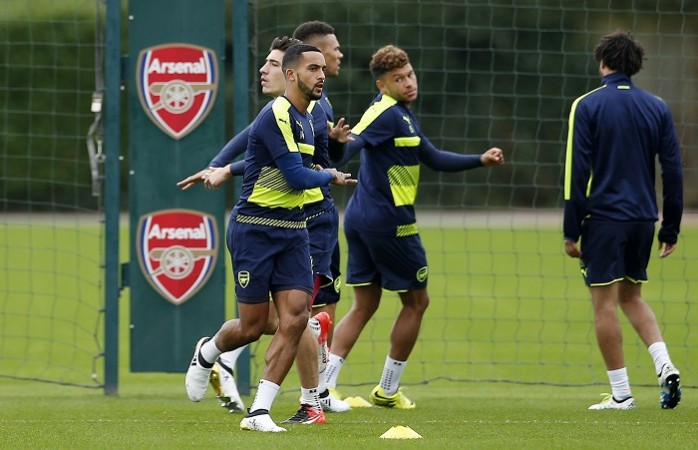 The manner in which Arsenal beat Chelsea was a joy to watch, and keeping that poise and va-va-voom intact will be the plan for Arsene Wenger when his team host FC Basel in the Uefa Champions League. Arsenal need a win at home to get their Champions League campaign going after an opening draw against PSG.
Arsenal can, fairly often, play the kind of football they did against Chelsea, when the Blues, as poor as they were defensively, just could not cope. But, other times they have the habit of playing underwhelming football – too ponderous, too without pace.
Get the confirmed lineups of the two teams HERE
Wenger has linked the differences in performances with belief, saying that the fact that the Chelsea game came on the back of a few wins gave the players the faith that they could go on and beat a team they hadn't beaten in nearly five years.
Belief and confidence can make or break a player, with Theo Walcott being the case in point. Walcott had an outstanding game in the centre-forward position against Manchester United last season, before an injury put him on the sidelines and by the time he returned he had turned into the Walcott that frustrates one and all.
Arsenal, in many ways, are a bit like Walcott, and the challenge that Wenger has is to show his team can be of the va-va-voom class the majority of the time.
"We had a good game on Saturday but let's show that we can go from good game to good game and put the effort in, in every single game. That's what it is about.
"The win over Chelsea puts us in a consistent way," Wenger, whose team have not lost since the opening day of the season, said. "We respected the way we want to play and for us to score goals in big games gives us confidence.
"What pleased me most was the relentless team energy, the fact that we kept going no matter what the result was, and that we respected what we planned together. That's a sign of maturity.
"Our game is about style and steel, and we combined both."
If Arsenal bring those two ingredients on Wednesday, no matter how well Basel play, they will end up second best. But then the beauty of the Champions League is that any team can beat anyone, especially in the group stages, where it is a one-off.
Basel, who also drew 1-1 in their opening match, against Ludogorets, have the quality to trip Arsenal up, and one player, in particular, will be keen to shine. Taulant Xhaka will come up against his younger brother and new Arsenal man Granit and how the two fare will be a great subplot to look out for.
Mohamed Elneny is another Arsenal player with Basel connections, making this match an important one for both teams in more ways than one.
Where to Watch Live
Arsenal vs FC Basel is set to begin at 7.45pm BST (8.45pm CET, 2.45pm ET, 12.15am IST next day). Live streaming and TV information.
India: TV: Ten 3. Live Streaming: Ten Sports live.
UK: TV: BT Sport 3.
Switzerland: TV: RTS Sport, SRF Zwei and Sky TV.
Middle East, Australia, France, Indonesia, North Africa, Philippines: TV: Bein Sports. Live Streaming: Bein Sports Connect.
USA: TV: Fox Sports. Live Streaming: Foxsoccer2go.
Canada: TSN 4.