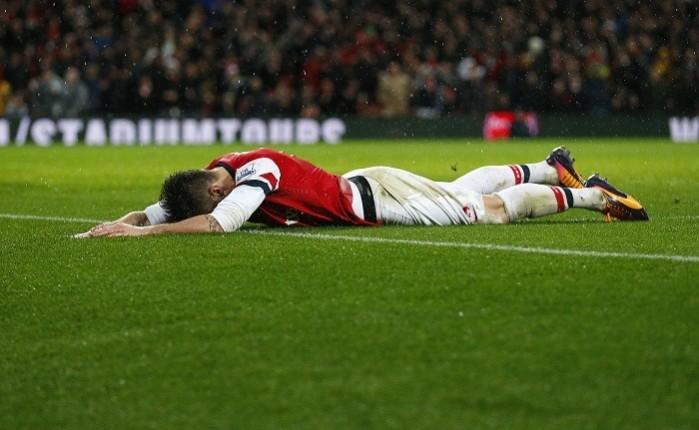 Arsene Wenger must be slowly getting tired of this Arsenal side throwing away opportunities to get that leg-up on their title rivals. Another attacking display bereft of any real quality, saw the Gunners only manage a point against Chelsea, who despite being defensively setup by Jose Mourinho, actually had more shots on and off target.
"We dropped two points tonight and that's what we want to focus on, to win the next game," Wenger said after seeing Arsenal draw 0-0 against Chelsea at the Emirates. "Chelsea defended well, they were well-organised and we didn't find our zippy movements to play through the lines as we can do.
"But I think in the second half there was room to win the game. Overall they were happy with a point, we were not happy with a point, but we couldn't take the few chances we created."
Arsenal only grew into the game in the final ten minutes or so, after Chelsea had gone into their defensive shell, determined not to leak a late goal.
But with Olivier Giroud, who despite having nine days' rest, still looked jaded, unable to grab his opportunities towards the end, a point was all Arsenal could manage, which sees the North London side level on points with leaders Liverpool.
"The three games he played in six days had a big weight in our recent results, but since then we had nine days when we could recover and I think tonight he was not tired," Wenger said of Giroud, who has gone off the boil after a bright start this season. "I will have to rest everybody at some stage. [Nicklas] Bendtner or somebody else [will have to start at some stage]."
Wenger admitted his side do face problems finding holes in defences setup to thwart the attacking verve of Arsenal, visibly evident in Monday night's game against Chelsea as well as the 1-0 loss to Manchester United at Old Trafford.
"We have to find a way, to sort that problem out," Wenger said. "I felt we were a bit edgy because we conceded six goals at Man City. It played a bit of a part in our head at the start of the game.
"In the second half we took control of the game and we had two or three chances where maybe we could have done better. You could still see that the two games we played at Napoli and at Man City had a little part, a little weight in our heads. But the fact that Chelsea gave us that problem, we want to be strong enough to deal with that."
Arsenal have now gone four games without a win in all competitions, but Wenger, despite losing an outright lead in a Premier League table which separates the top five by just two points, is still pretty happy to see his side sit second, only on goal difference, at Christmas.
"Look, it [four games without a win] doesn't help," Wenger added. "But let's be serious. If after the first game against Aston Villa I would have told you that at Christmas we would be top of the league, you would have said you are absolutely mad, so let's not go completely overboard as well.
"We are where we are, we have gone through the last three games, which were a bit more difficult. We still have played Everton, we have played Man City and we have played Chelsea.
"It's tight as you say. But it's down to consistency. We go through a patch that is a bit more difficult, but part of a successful season is how well you deal with that. I must say the spirit of the players is unbelievably focused, we have a great desire. We go through a period where it's a bit more difficult but with that spirit we'll come out of that."