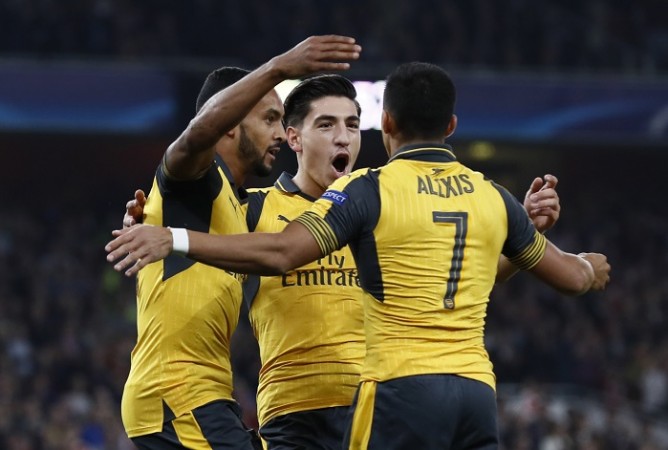 Alexis Sanchez down the middle as a No.9 was always a don't-think-that-is-his-best-position area, with the Chilean, more often than not, failing to impress when he has been played in the centre-forward position at Arsenal. However, Wenger, due to injuries and the need for pace through the middle, has persevered with Sanchez as the No.9 this season, and, after a couple of iffy performances, the former Barcelona man seems to be coming into his own.
Following a wonderful performance against Chelsea, where he set the ball rolling with the opening goal, Sanchez put in another outstanding show down the middle in the Champions League on Wednesday, looking dangerous every time he had the ball, be that deep, out wide or behind the Basel defence.
On top of that, Sanchez seems to be developing a really good understanding with the other outstanding player of this season so far – Theo Walcott. The Chilean was the assist man for both of Walcott's goals on Wednesday and the fact that the two seem to be building a partnership up front bodes well for Arsenal.
"Combinations between me and him are very positive at this moment in time," Walcott said. "We seem to sort of know when we play off each other quite well. If he comes short, I go long and we've just got a good sort of combinations.
"The whole team has tended to play very well together, and when we lose the ball everyone tries to be first to get it back. That starts from Alexis at the top and he sets the pace for us all, and it seems to be clicking at this moment in time."
Arsenal, though, are the masters of the false dawn, and Walcott knows this good start and wonderful football they are playing at the moment will mean absolutely nothing if they do not maintain their consistency and go on and win a trophy at the end of the season.
"The whole team seems to be clicking," Walcott added. "I think the whole team tends to react well and defend well as a unit and clean sheets are going to win games because we're going to score plenty of goals.
"But it's obviously still very early into the season, so hopefully we can all stay fit and it's going to be a good run."
What has been great to see from Arsenal from their last two wins, in which they scored five goals and could have easily scored five more, is that they haven't conceded a single goal. Shkodran Mustafi and Laurent Koscielny seem to be developing a good partnership at the back and with a great relationship already in place up top, things are starting to look up for the Gunners, after a difficult start to the season.
Next up for Arsenal is an away game against Burnley in the Premier League. More of the same, more of the same will be the mantra.