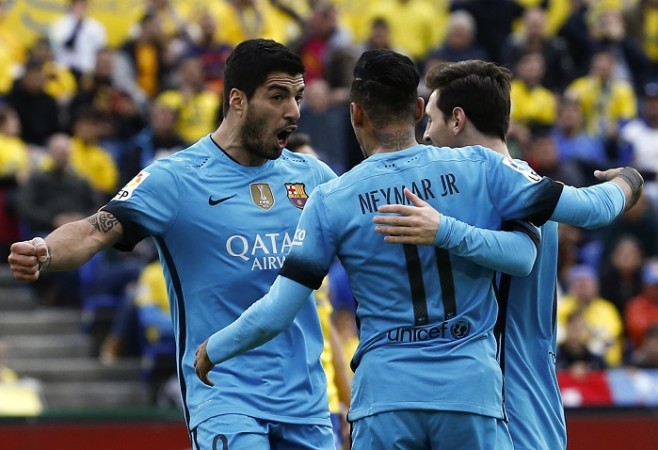 Lionel Messi, Luis Suarez and Neymar – Arsenal somehow must stop the three we-score-goals-for-fun Barcelona forwards, not just over 90 minutes, but over 180 minutes. The first 90 of those 180 minutes takes shape Tuesday with the first leg of the last 16 tie at the Emirates.
Arsenal have the unenvious task of stopping the MSN trio, who will look to put the tie beyond doubt in the first leg, by giving Barcelona a big victory. Wenger is well aware of the threat posed by Messi, Neymar and Suarez, who nearly signed for Arsenal not too long ago, and implored his side not to make any "stupid" mistakes in the first leg match at home.
"Looking recently in these big games, in the first tie at home we can't be stupid," Wenger was quoted as saying by The Guardian. "Many times we've won away and at home we've conceded.
"We have to find a good balance between defending and attacking. Individually, all their players are difficult to stop. We have to find a way to do it collectively."
Arsenal will be expected to adopt the same approach that worked so well against Bayern Munich in the group stages, when a strong rearguard action helped them to a 2-0 victory over the Bundesliga champions. In that match, Arsenal, normally a side which has the majority of possession in the Premier League, ceded control of the ball in order to stay compact at the back and also to use the pace of their forwards to hurt the opponents on the counter.
"I believe that at some point in the game we'll have to be deep because of the way they play," Wenger added of facing Barcelona. "You can't always stop them high.
"On Tuesday night, we'll need great solidarity because we'll need to defend well, and make the maximum of our possession."
Not conceding an away goal will be a great bonus for Arsenal, but to be fair, to stop Barcelona from scoring and nicking a couple at the other end, it needs to be one of those nights, where the rub of the green goes the home team's way, with "Lady Luck" firmly camped in with the team in red and white.
If Arsenal somehow manages to keep Messi, Suarez, Neymar and the rest of the Barcelona team quiet for the entire first leg, they will then need to go to the Camp Nou and not fluff their lines in the second leg, much like they did when the two teams met last time in the Champions League back in 2011.
After winning the home leg 2-1, Arsenal missed a couple of great chances, which might have killed Barcelona off, and with it allowing the home team to pick up a 3-1 second leg victory.
Mistakes, profligacy in front of goal and lack of concentration are things that you cannot afford to do when playing the European champions.
UEFA Champions League last 16 first leg schedule: Arsenal vs Barcelona
Date: Tuesday, February 23.
Time: 7.45 p.m. GMT (8.45 p.m. CET, 2.45 p.m. ET, 1.15 a.m. IST).
Venue: Emirates in London.
TV listings: India: Ten Action and Ten HD. UK: BT Sport Europe. Spain: TV3 and Antena 3. USA: Fox Sports 1 and ESPN Deportes. Canada: TSN5. China: QQ Sports and PPTV. Australia, Middle East, North Africa, Thailand, Indonesia, Spain and France: Bein Sports. South Africa and Sub Saharan Africa: SuperSport3.