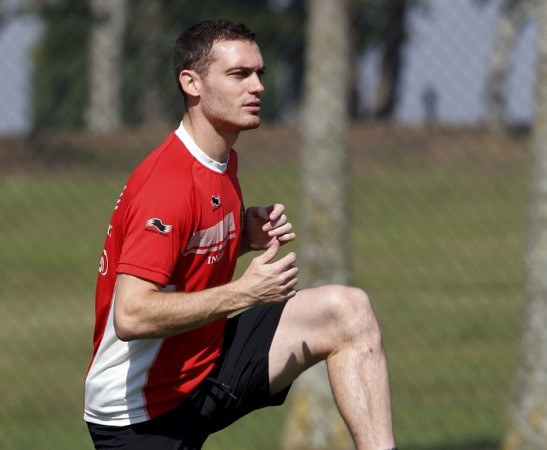 Arsenal are ready to use Manchester United's interest in Thomas Vermaelen to their advantage by asking for a player or two to move the other way if they do agree to sell their captain to the Old Trafford team.
Louis Van Gaal has reportedly identified Vermaelen as his man to take over the senior defensive mantle at Manchester United following the departure of Nemanja Vidic and Rio Ferdinand, but the Gunners have so far knocked back all offers from their English Premier League rivals.
Arsenal, though, will consider making a deal for their skipper if United are willing to throw in a player in a swap deal, according to the Daily Telegraph.
Arsene Wenger, seemingly in full signing mode this summer, is an admirer of Chris Smalling, having failed to sign the defender from Fulham with the England international choosing to move to Old Trafford in 2010.
According to the report, Wenger will be open to doing a deal with United if Smalling or someone of the Arsenal manager's interest is included.
Another United player to have been linked with a move to the Emirates in the past is Javier Hernandez, and with Robin Van Persie and Wayne Rooney already on top of the pecking order, the Mexican might be open to a move away, with Wenger thought to be a fan of the marksman.
Van Gaal is desperate to bolster his defensive ranks, despite having the likes of Smalling, Phil Jones and Jonny Evans in his squad, and the versatile Vermaelen, due to the fact that the Belgian international can also play at left-back – something that could come in handy with Patrice Evra set to join Juventus – is seen as a good option.
However, with Arsenal also pretty short in the defensive ranks – they lost Bacary Sagna, Wenger's number one right back and fourth-choice centre-back, to Manchester City – the North London side will not be ready to let go of their player, even if Vermaelen only has one year remaining on his current deal.
Vermaelen has been left frustrated with his limited opportunities at Arsenal, with Wenger preferring the central defensive partnership of Per Mertersacker and Laurent Koscielny, who apart from a few big games, have done splendidly well at the back.
The 28-year-old, who joined Arsenal five years ago from Ajax, has admitted he will review his future at Arsenal when he returns for preseason. According to reports, Vermaelen has reportedly given Van Gaal and United the thumbs-up for the move, but with Arsenal remaining firm, the switch remains firmly in the balance.