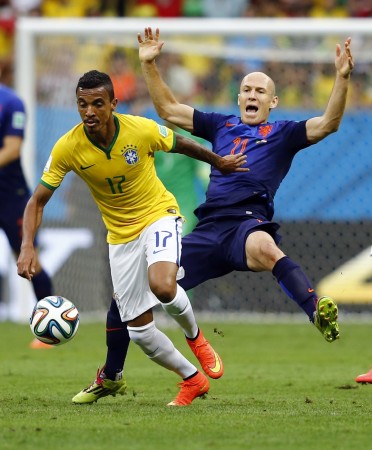 Arsenal manager Arsene Wenger is reportedly interested in Wolfsburg's Luiz Gustavo as he looks to make a final few additions to the squad before the end of the summer transfer window, with the possibility of Lukas Podolski going the other way.
The Frenchman is believed to be interested in securing the 27-year-old midfielder's signature after missing out on the Brazilian last summer.
According to the Mirror, Wenger sent some of his scouts to keep an eye on Gustavo during Wolfsburg's opening day defeat to defending champions Bayern Munich in the Bundesliga.
Some reports indicate Arsenal may be willing to offer a player-plus-cash deal for the Brazilian as Wolfsburg are beleived to be interested in Podolski, who is expected to leave the Emirates this summer.
The German, who was left out of the squad during Arsenal's 2-2 draw against Everton, is also being courted by Serie A Champions Juventus, but Arsenal will be tempted to offer the World Cup-winning striker to Wolfsburg in their attempts to land Gustavo.
Despite having spent a considerable amount of money on the transfers of Alexis Sanchez (Barcelona), Mathieu Debuchy (Newcastle United), David Ospina (Nice) and Calum Chambers (Southampton), Wenger is reportedly still looking for a defensive midfielder following Mikel Arteta's injury.
The 64-year-old Frenchman had earlier stated that the Gunners could sign some more players to strengthen their defence.
"We have the players we want but we are open as well to any opportunity until the end of the transfer window, who can strengthen our defensive department in quality and number," Wenger said.
And it looks like Gustavo is one of the players that Wenger is keen to bring in before the end of the transfer window.
The 27-year-old, who is known for his accurate passing, strong tackling and long shots, will certainly be a good addition at the Emirates as he has experience playing at the highest level with Bayern Munich and the Brazil national team.
Meanwhile, Spanish midfielder Santi Cazorla, who scored during the Gunners' triumph over Manchester City in the FA Community Shield, says that he wants to improve his personal goal tally and help Arsenal win more silverware this season.
"Kicking off a new season in that fashion is always nice: winning a title and also helping by scoring a goal. That keeps your morale high. As I always say, my target is helping the team with goals," Cazorla told Arsenal's official website.
"I hope to equal or beat my goalscoring tally from last season. That's something every player wants to achieve. Hopefully I'll help the team with many goals because that would be a signal that I can be useful."