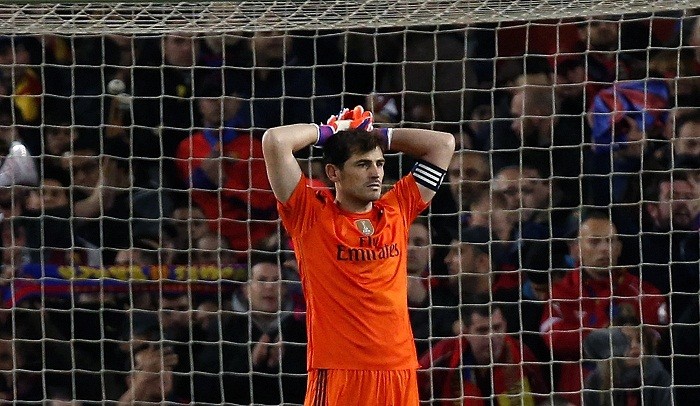 Arsenal and Iker Casillas seem to be joined by the transfer-rumour-hip, with the latest reports suggesting the Real Madrid goalkeeper is keen on a summer move to the English Premier League, and specifically the Emirates.
Casillas has been linked with a switch to Arsenal several times in the past, but the Real Madrid legend has stayed put at the Bernabeu. The Spain international has been Carlo Ancelotti's first choice at Real this season, and even if the wobbles continue, the 33-year-old has looked a lot more solid in 2015.
However, Real Madrid are likely to look for a long-term solution in the goalkeeper department in the summer transfer window, with Manchester United's David De Gea looking like the most likely candidate to take over Casillas' gloves.
If that mega transfer does happen, Casillas will want to finally make a move away from Real Madrid, with the EPL his most likely destination.
"Iker Casillas is very clear, he wants to go to England at the end of the season," Spanish journalist Josep Pederol said on Spanish television.
While those quotes could mean any English team – Liverpool have also been linked with a transfer – Pederol then took to Twitter to claim Casillas wants a move to Arsenal when the summer transfer window opens in July.
"Noticia @JugoneslaSexta: Casillas quiere jugar en el Arsenal la proxima temporada!!!!!," he wrote, which translated into English means "Casillas wants to play for Arsenal next season."
Wenger has been tipped to go for a goalkeeper this summer, with Chelsea's Petr Cech and Tottenham's Hugo Lloris thought to be the Frenchman's targets. However, both Chelsea and Spurs, especially, are unlikely to sell one of their players to their rivals, leaving Wenger to possibly look elsewhere for goalkeeping targets.
While Wojciech Szczesny has been shaky this season, David Ospina has continued to impress, even if he has not had that much to do owing to Arsenal's sturdier defence in the second half of the season.
Szczesny is highly rated by Wenger, but the manager did admit he cannot be certain the Poland international will be an Arsenal player next season, owing to the goalkeeper losing his No.1 status to Ospina.
"I hope yes, but at the moment it is very difficult to answer that question," said Wenger before Arsenal's game against Reading ten days ago when asked about Szczesny's future. "I still think he is a great goalkeeper."
If Szczesny thinks his future lies elsewhere and Wenger is forced into a sale, then Arsenal will undoubtedly need a new goalkeeper, despite Emiliano Martinez impressing in his outings this season.
However, whether signing Casillas, who will undoubtedly demand high wages, makes sense or not is completely another matter, even if it is as a potential replacement for Szczesny.