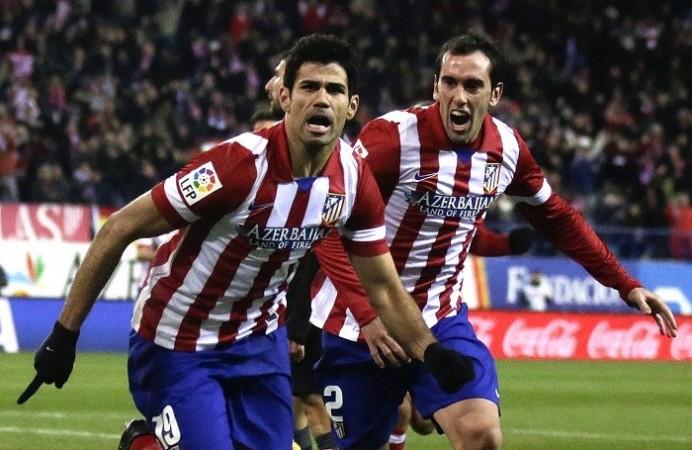 When Nicklas Bendtner scored the winner for Arsenal against Cardiff after the home side had put on a relentless attacking exercise for nearly 90 minutes, with that relief flooding through the fans, there was also a sense of maybe the Danish enigma could yet act as a perfect support act to Olivier Giroud.
But then, the ankle sprain following that smash into the back of the net rendered Arsenal striker-less, with Arsene Wenger now having to opt for Lukas Podolski or even Theo Walcott for a central role.
Wenger admitted the Gunners were short on striking options, but insisted, as he always does, he would delve into the January transfer market only if a special player were to be available.
According to the Daily Star, that special player could be Diego Costa, with the report suggesting Arsenal were ready to trigger the £32 million release clause that currently exists in the Atletico Madrid striker's contract.
There is little doubt that Costa, who will be ineligible to play in the Champions League were he to switch allegiance to Arsenal, has quality, having already netted 19 goals in 17 La Liga games this season.
The Brazil-born forward, who has pledged his international future to Spain, could very well be the answer to Arsenal's problems up front, and while it would be another big investment, bringing in a quality player like Costa will further lift the morale of the rest of the Arsenal players, much like the signing of Mesut Ozil did in the summer.
One Gunner who would be happy to see new faces coming in is Theo Walcott.
"[It] is for the manager to decide if he wants to go out and buy anyone, whoever will come to the club in January, if not it is going to make the club stronger anyway," Walcott said.
"It is always nice to have competition with players coming in, but January is such a difficult period in the transfer market to get players in, especially the top players.
"The boss has already said that he is looking for special players and we have got a lot of special players in that dressing room."