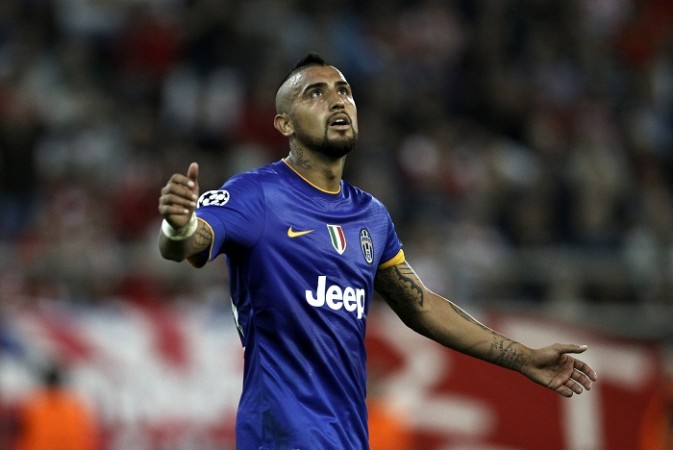 Arturo Vidal to Arsenal is a done deal – or at least that is what the reports seem to suggest; just don't tell it to Arsene Wenger, though, not until the FA Cup final is played on Saturday.
With the Vidal rumours swirling around and making everyone dizzy, the always-most-sober of them all Wenger refused to be carried away by the frenzy, staying calm and collected and giving away little to nothing.
However, the optimists who believe the Vidal to Arsenal transfer is very much a possibility will climb on Wenger's comments on the Juventus midfielder and interpret them as "Yes, that means he is going to sign him, awesome!"
"If I tell you I like him, you will announce the transfer just after that. If you want me to say I like Arturo Vidal, yes I like Arturo Vidal," said Wenger when pressed on the transfer.
Wenger, though, insisted thoughts over signing players will be reached only after the FA Cup final against Aston Villa, with Arsenal looking to defend the title they won last season, when they came from two goals down to beat Hull City in extra time.
"Are we in a transfer mode? I say, no," added Wenger.
However, questions over transfers did not end there, with the next player asked about being Karim Benzema. For that as well, Wenger whipped out the "not in transfer mode" quote, even if – and here is where the optimists will take over – there was no denial, for either Vidal or the Real Madrid striker.
"You can suspect that at the moment I am not in a transfer mode," Wenger said. "We'll deal with the transfers after the FA Cup final.
"It's all suspicions. Does anybody know if that's true or not? I don't know."
The Arsenal manager has a near fully-fit squad to choose from for the FA Cup final, with only Danny Welbeck missing out on Saturday. Options are something that Wenger does not often have the luxury of, but the fact that he will leave plenty of heavyweights on the bench shows how strong this Arsenal squad is, even if there is room for a few reinforcements.
"We have a big squad," Wenger added. "When you think I have some big selection decisions to make on Saturday. Even to leave some top internationals out of the squad shows that we have a very big squad."
That should not stop Arsenal or Wenger or the rumour mongers or the fans from thinking about bringing a few more "world-class" players, should it?