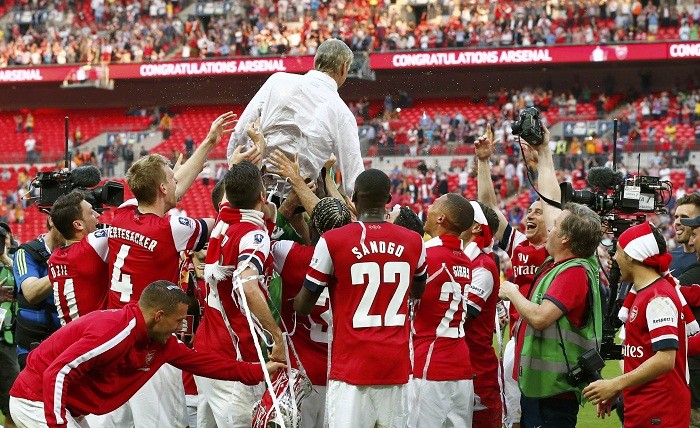 Arsenal might have been linked with a move for Barcelona's current undisputed superstar, but Arsene Wenger's hopes of unearthing another Lionel Messi continues with the club signing Germany youth international Georgios Spanoudakis from the Spanish club.
The Gunners have already brought in several youngsters into the club from Barcelona with Cesc Fabregas, Fran Merida, Hector Bellerin, Jon Toral and Julio Pleguezuelo all making a switch to the Emirates.
Spanoudakis seems to the latest youngster to move to North London, with Arsenal clinching the signing of the 15-year-old, according to the Metro.
Barcelona brought in Spanoudakis five years ago from Eintracht Frankfurt and the teenager has been capped for Germany at various youth levels including at the U-15 and U-16 levels.
The teenager is your quintessential German midfielder -- easy on the eye, with lots of technical ability and that sixth sense to pick out the perfect pass.
Arsenal have made several signings this summer for the youth team already and Spanoudakis joins six other new faces at the club.
Meanwhile, one of the brightest hopes from the up and coming youngsters crop at Arsenal – Gedion Zelalem – expressed his happiness at playing with the likes of Aaron Ramsey and Abou Diaby in midfield during the club's 2-0 win over Boreham Wood last Saturday.
"I'm delighted to play with the likes of Aaron Ramsey and Abou Diaby," the 17-year-old told Arsenal Player. "I grew up watching them, so playing with them is pretty much a dream come true. Hopefully I'll be able to play with them more.
"I think about it all the time. In training [sometimes] I'll zone out thinking, 'Oh, I'm really training with them'. I don't think I'll get used to it.
"All of them help me -- not only the ones that play in my position. Per Mertesacker tells me what to do and it's just a good environment to be in.
"They tell me about their experiences, that things will get hard but that you just have to push on. It's good."
Zelalem has been tipped for a bright future at Arsenal, with his wonderful midfield skills seeing him compared to former skipper Fabregas. Ironically, Zelalem is thought to be one of the reasons behind Wenger's decision not to re-sign Fabregas when the midfielder became available following a three-year spell with Barcelona.
While Wenger had plenty of senior midfielders at his disposal – none more so than Mesut Ozil – the manager also has the likes of Zelalem, Toral, Kristoffer Olsson and Dan Crowley, who are chomping at the bit to be given a first-team opportunity.