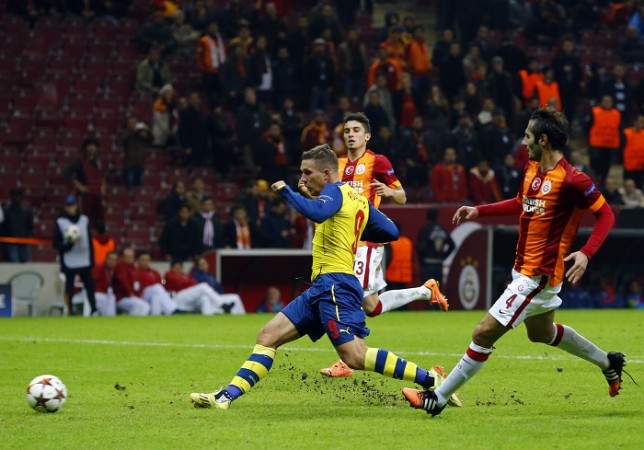 Arsenal are set to make a double raid on the Serie A, with Arsene Wenger keeping his penchant for signing attack-minded players.
The English Premier League side are reportedly keen on both Marek Hamsik of Napoli and Roma's Mattia Destro, with Arsenal now pondering the double signing in the January transfer window as Arsene Wenger looks to shake his attacking charges up a little.
In order to sign the two players – Hamsik has been linked with a move to Arsenal in the past, and Destro has been constantly in the Arsenal section of the rumour mill for a while now – Wenger will have to let go of a couple of his attacking players, and Joel Campbell and Lukas Podolski could be the names set to make way, according to the Daily Express.
Campbell has barely seen any game time after returning to Arsenal this season following several loan spells, while Lukas Podolski has also been very much on the fringes, despite showing his prowess in front of goal whenever given an opportunity.
Podolski, indeed, has hinted several times this season that he will look for a way out of Arsenal in the January transfer window if his playing time does not increase, with several clubs in Germany interested in the forward's services, even if Wenger has insisted he will not sell the former Koln man this season.
Campbell recently came out and said he is happy at Arsenal, after his appearance in the club's comfortable Champions League win over Galatasaray last week, but it does seem like Wenger does not quite rate the Costa Rica international as highly as his World Cup performances would suggest.
While Arsenal are expected to go all out to sign a central defender and a defensive midfielder, Wenger might look at the option of freshening up his attack, which has struggled quite a bit this season.
The focus might have been on the defence, after injuries and the fact that the Arsenal manager did not go out and buy a central defender in the summer left them serious shorthanded, but the forward-thinking players, despite all that possession – Arsenal lead the possession stats in the entire Premier League – have not quite been able to hit their heights consistently enough, with only Alexis Sanchez impressing time and again.
There have been signs of improvement of late, but Wenger might think bringing in Destro and Hamsik is just the kind of fillip the rest of the players need to find their attacking mojo every game.
Hamsik was the man of the moment a couple of seasons ago, bossing the Napoli midfield, and making playmaking look like an art. While those seriously good performances have tailed off a little bit of late, there is no doubting the 27-year-old's talents.
Hamsik's chances of a possible exit from Napoli only increased, with the player's agent reportedly testing the "interest" waters in the Premier League for his player, who has also been linked with the likes of Tottenham, Chelsea and Manchester United as well.
Destro is a young striker with plenty of potential, who, if given the right opportunity, has the talent to score bags of goals and become a premier striker.
Roma recently said they will not sell Destro in January, but Arsenal have been heavily linked with a move worth around £15 million.
The priority remains a central defender and a defensive midfielder, but maybe bringing in new blood of great value on the attacking front – as long as Wenger is able to sell some of his other attacking players – might not be such a bad thing either, just as long as it does not affect the signings of those defensive-minded players in the January transfer window.