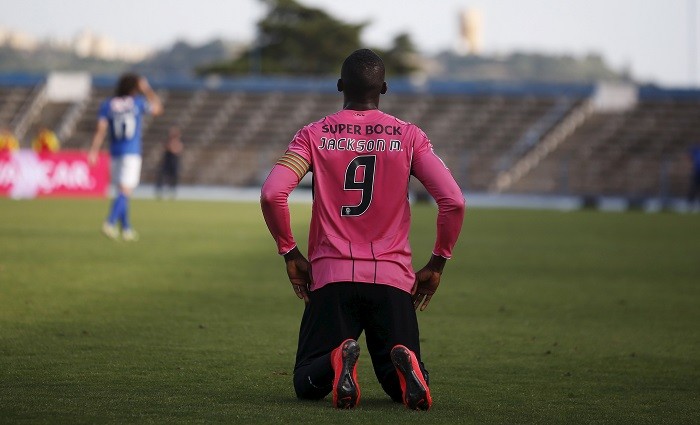 Arsenal target Jackson Martinez will leave FC Porto this summer, according to the Colombian's agent.
The Gunners and Jackson Martinez have gone hand-in-hand with transfer rumours since the end of the season, with various reports suggesting Arsene Wenger already has a deal in place for the striker.
Martinez has a release clause of €35million (around £25 million) in his current contract, which Arsenal are reportedly open to triggering.
The Colombia international's striker Luiz Henrique Pompeo revealed his client will join a new club before the start of next season.
"The departure from Porto will be a reality in the coming days," Pompeo told O'Jogo. "Just the details are missing.
"Porto will receive the full €35million of his release clause. Jackson will continue in a top European club."
Apart from Arsenal, the other team thought to be keen on the striker's services are Valencia, and there is a good chance that it is the Spanish club that have a deal in place.
Despite all the reports, it is difficult to envisage Wenger spending £25 million on a player who will turn 29 later this year. Martinez, undoubtedly has that ability to keep popping up with goals, but to take such a big punt on an ageing player, who has never played in the Premier League will be a big gamble indeed.
Arsenal could use a striker that will help out the likes of Olivier Giroud, Danny Welbeck and Theo Walcott, and with players of the ilk of Zlatan Ibrahimovic reportedly available, surely it would make more sense to go all out for the Swede, even if the former Barcelona striker has been tipped for a move back to his former club – AC Milan.
Another striker reportedly on the market is Gonzalo Higuain, who is younger but will also be a lot more expensive, while Wenger might also want to take a chance on Alexandre Lacazette, the youngest of the lot and with bags of potential, having had a brilliant season with Lyon.
Martinez will definitely add more firepower to this Arsenal side, and of the Colombian continues his goalscoring exploits at the Emirates as well, Wenger could have a really potent striker on his hands for the next few seasons.
The question, though, remains if it is worth the gamble.