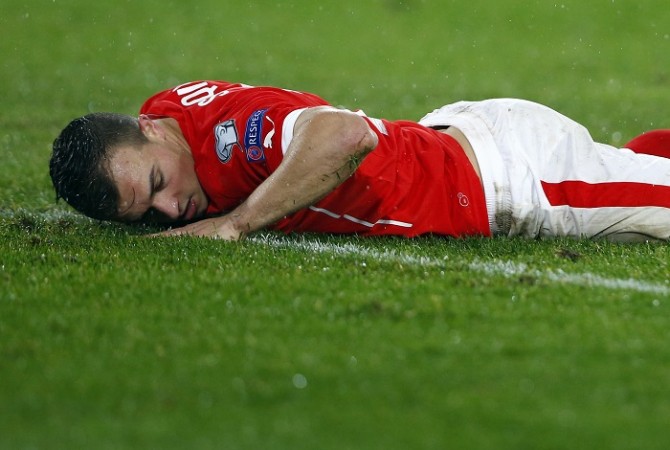 Arsenal are planning a raid on Bayern Munich in the January transfer window by offering £10 million for their playmaker Xherdan Shaqiri.
The Switzerland international has found it difficult to get constant playing time at Bayern owing to their embarrassment of riches in the attacking positions, and has hinted at a possible exit in the January transfer window.
English Premier League has been touted as the most obvious destination, with Manchester United, Liverpool and Tottenham also showing an interest apart from Arsenal.
Arsene Wenger is expected to sign new players in the January transfer window, even if they might not be of the attacking mentality.
Arsenal are desperately short in the centre-back and defensive midfield positions, with the club thought to be in the market for a couple of players who could fill those positions in January.
However, you can never rule out an attacking signing with Wenger, irrespective of the transfer window, and according to the Daily Star, the Arsenal manager is all set to bid £10 million for Shaqiri, who has been dubbed the "Alpine Messi."
Arsenal might have room for an attacking player, though, if Wenger does agree to let go of one of or both of Joel Campbell and Lukas Podolski in January, which could be a reason why the club continue to be linked with attacking players.
Swiss website Blick says Bayern Munich will let Shaqiri leave in January for €20 million (£15.6 million, with Tottenham, Manchester United and Arsenal all thought to be "very interested" according to the report.
Liverpool had a bid turned down in the summer by Bayern Munich for Shaqiri and will no doubt make a move as well if he does become available in January, which at the moment looks quite likely, despite the denial of Pep Guardiola, who insisted he expects Shaqiri to stay at the Allianz Arena this season.
"I think they will stay," said Guardiola when asked about the futures of Shaqiri and fellow Bayern midfielder Emile Hjojberg. "If they want something then they need to speak to [sporting director] Matthias Sammer."
Even if Shaqiri does become available, it is debatable if Arsenal need him for the rest of the season and beyond, considering their embarrassment of attacking riches at the moment. If Podolski or Campbell leaves, Wenger still has plenty of attacking options, and the Arsenal manager would certainly be best served by going for a quality centre-back and defensive midfielder rather than another attack-minded player.