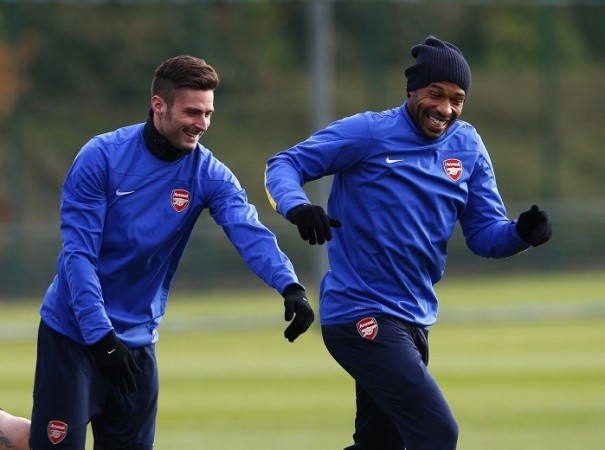 Arsenal manager Arsene Wenger ruled out a January swoop for the club's record goalscorer Thierry Henry.
The former Gunner has already made one return to Arsenal, a short-term loan move in January 2012, and has been linked ever since for a similar role.
Henry, currently with the New York Red Bulls in Major League Soccer, is back at Arsenal, the club where he enjoyed so much success, and became one of the best players in the world, training with the first team squad as he looks to keep fit during the MLS offseason.
Wenger is short of strikers at the moment, with Olivier Giroud his only real option, as Nicklas Bendtner has failed to convince and is expected to leave in the winter window.
However, Wenger ruled out re-signing Henry, or another former great Robert Pires, who is also training at London Colney with the Arsenal side.
"They like to come back to Arsenal, to practice," Wenger said. "When they can join in, they do. They integrate well with the spirit of the team. Nothing more than that!
"They have no real target to bring something, they just want to enjoy themselves and keep their fitness. Usually they don't practice with the first team because they come in and work on fitness.
"It is a little bit less competitive, [but] when we have some room we invite them to play with us but usually they train separately to us."
Henry, among several other form Arsenal players, has been tipped to take over a coaching role at Arsenal at some point in the future, but Wenger insisted it was not being considered at the moment, with the likelihood of such a position still a little while away.
"No, at the moment he is invited just to practice when he wants," Wenger added. "We have a big staff, a very competent one, and we have the right number to support the team to achieve the targets.
"Thierry is a player, one day certainly it will be different, but at the moment no."
Dennis Bergkamp, currently assistant manager at Ajax, is another Arsenal legend, who has been linked with a coaching role and a dream team of Bergkamp and Henry teaming up to coach once Wenger calls it a day is something that a lot of Arsenal fans are hoping to see in the future.