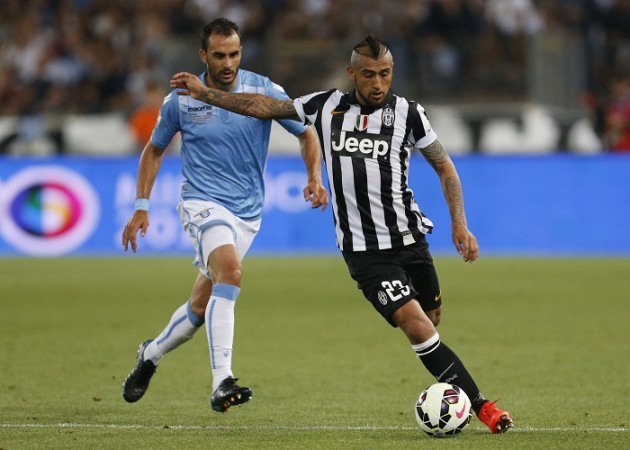 With reports suggesting Arsenal have agreed a deal to sign Arturo Vidal from Juventus in the summer transfer window, questions over the possible move to Arsene Wenger was inevitable.
The Vidal to Arsenal transfer news was broken by Calcio Mercato Web earlier this week, with the report suggesting Vidal's agent Fernando Felicevich – the same agent of Alexis Sanchez as well – had spoken to Wenger about a move, with personal terms already agreed.
According to the report, Vidal has given his nod to a four-year deal with Arsenal, with the only aspect of the transfer that remains to be sealed being the fee to Juventus. Calcio Mercato claim that that is not expected to pose a problem, as Juventus are keen to sell Vidal in order to be in a better position to keep Paul Pogba, wanted by almost every big European club, including Arsenal, for another year.
With the Vidal story doing the rounds, Wenger was asked a leading question over whether a player can tempt a national teammate to join them at their club.
Wenger was his usual cryptic self when it came to an answer, but it was interesting that he decided to answer, even if he would have known exactly why the question was being asked (also possible that Tomas Rosicky-Petr Cech situation was being brought into play). "No, most of the time it is the players who want to join you who come in," he said. "Sometimes they might call each other but we do not get the players to interfere with that."
The reports have suggested Sanchez is playing his part in tempting Vidal to Arsenal, and if it were to turn out to be true, it will be a major coup for Wenger and the English Premier League club.
Yes, Vidal has struggled with injuries over the last couple of years, but there have been signs of improvement on that front and there is little doubt that when in form, the Chilean is one of the best midfielders around.
The fact that Vidal, who could win a Champions League winners medal if Juventus beat Barcelona in the final on 6 June, is not exactly a purely defensive midfielder will also suit Wenger, as it will give him more options in midfield, while also being able to use the 27-year-old in the holding position if Francis Coquelin is injured.
Morgan Schneiderlin has been the name doing the rounds most often as an Arsenal buy for that particular position, but maybe Wenger has decided Vidal is the better, more complete option.
Manchester United were heavily linked with Vidal last summer, with a story cropping up almost every day, but a deal failed to materialise, while Liverpool have also been reportedly keeping tabs.
There is little doubt that Vidal will make Arsenal stronger, and could be that midfield spine that most critics/pundits have been calling for, and Wenger himself has admitted in the past of being a big fan of the Chile international.
"Vidal is one of the best midfielders in the world," Wenger was quoted as saying by the Independent while the manager was covering the FIFA World Cup last summer. "He has everything. Incredible stamina, perfect timing. He's a marathon athlete who plays football."