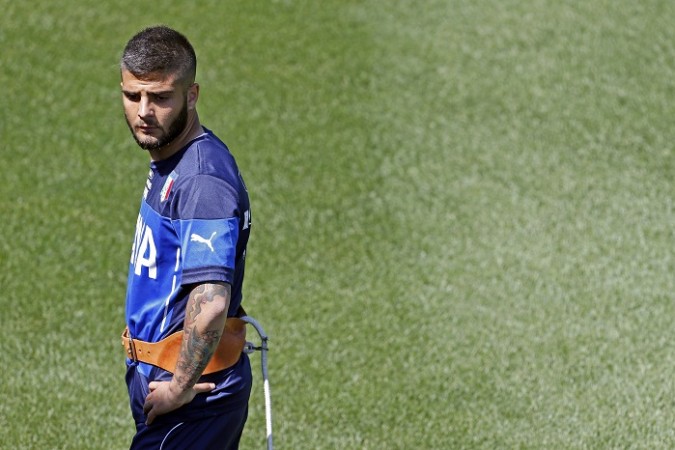 While attention has of late turned to whether Arsenal will make a move to re-sign their former captain Cesc Fabregas, the most important transfer activity that Arsene Wenger will do in the summer remains the signing of a striker, and a good one at that.
Several big names have been linked with even the likes of Hulk reportedly interesting the Gunners, and another player to be thrown into the ever-growing hat is Napoli forward Lorenzo Insigne.
Wenger, according to the Metro, has reportedly told his scouts to keep a close watch on Insigne's performances for Italy during the World Cup, in view to making a move in July.
Insigne is a forward, who when on song, can create problems for any defence, with the 23-year-old quite good at setpieces as well. The fact that Wenger, who would have seen the diminutive forward in action when Arsenal played Napoli in the Champions League last season, is looking for a forward that can play with and without Giroud, will tilt his preference Insigne's way.
The Arsenal manager is prepared to make a £17 million bid to bring in the Italian international, if he makes an impression at the World Cup, where Italy are drawn in a tough group with England, Uruguay and Costa Rica.
Arsenal believe the £17 million will do the trick with Napoli reportedly keen on generating funds to make a few big signings of their own.
Meanwhile, Arsenal defender Laurent Koscielny has called on the club to make a few signings in the summer, with the French international believing bringing in a striker should be the top priority.
"We need to recruit a very, very good striker, because it's important for us, for competition for places, because Olivier needs that to become even better," Koscielny told reporters at France's training base.
"Having a striker who scores more than 30 goals a season can help us win the Premier League. Compared to the squads like Manchester City, even United, Chelsea, you can see there's a certain difference."
Koscielny had another impressive season with Arsenal last season, helping the club to the FA Cup title, but the 28-year-old insists the North London side need a few quality additions in order to compete with the rest of the big boys for the English Premier League title.
"We'll need a goalkeeper, a right-back, a midfielder and a striker," added Koscielny, who seemingly has his guns trained towards managing a club in the future.
"It's important to have a minimum of these four players so that we'll be better able to challenge over the course of a whole season against teams like Manchester City, Chelsea or United. Winning the FA Cup can change things and lead to other players coming."