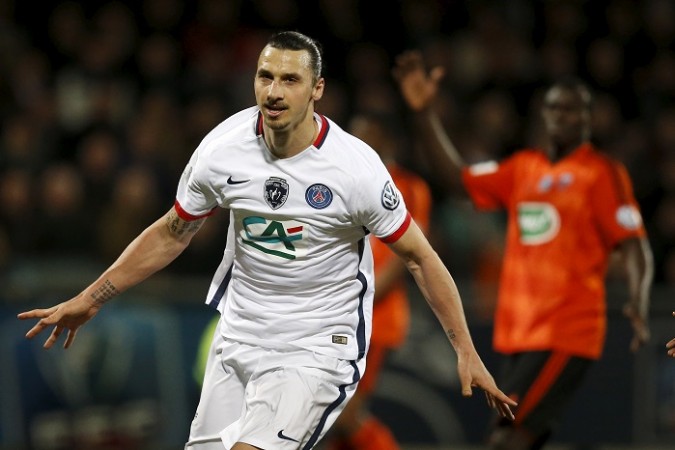 Arsenal are ready to go head-to-head with Manchester United for the signature of Zlatan Ibrahimovic. The prolific Swede is expected to leave Paris Saint-Germain at the end of the season when his contract with the French champions expires.
With Ibrahimovic becoming a free agent in the summer, the English Premier League looks like being his most likely destination. Manchester United and Chelsea have reportedly enquired about Ibrahimovic's services, but Arsenal have now joined the we-want-Ibrahimovic-in-our-team list.
Before the start of the season, it was quite clear that Arsenal needed a potent striker up front, and while Arsene Wenger did his best to try and bring in Karim Benzema from Real Madrid, a move never materialised. In the end, Arsenal struggled to score goals this season, with Danny Welbeck and Alexis Sanchez struggling for fitness and Olivier Giroud and Theo Walcott form.
Of the top four teams, Arsenal are by far the least scorers, which shows why they have struggled to garner consistent points this season, particularly against the "lesser" teams. Arsene Wenger, who has insisted he will see out the final year of his contract, wants to ensure the same problem does not arise next season, and as a result, the Frenchman is ready to make a firm move for Ibrahimovic, according to the Daily Star.
To do that, though, Wenger will have to convince Ibrahimovic Arsenal are in a position to compete for the Premier League title next season, while also being able to put up a big contract on the table.
Manchester United are reportedly ready to offer Ibrahimovic wages of £250,000 a week, something Arsenal have not paid for any player ever.
The key for Ibrahimovic, if he decides the Premier League is his next destination, will be Champions League football. Leicester City have confirmed their place in Europe's elite competition next season, while Tottenham also look quite likely to join them. Arsenal and Manchester City, who will not make a move for Ibrahimovic, considering Pep Guardiola is set to be their next manager, are the other two teams in the top four positions at the moment, with Manchester United and West Ham also doing battle.
If Arsenal manage to keep their position in the top four come the end of the season, they will have the upper hand over Manchester United in terms of negotiations with Ibrahimovic, even if it seems quite difficult to envisage Wenger offering the Swede, who previously refused to undergo a trial under the Frenchman when he was a youngster, that kind of money in wages.