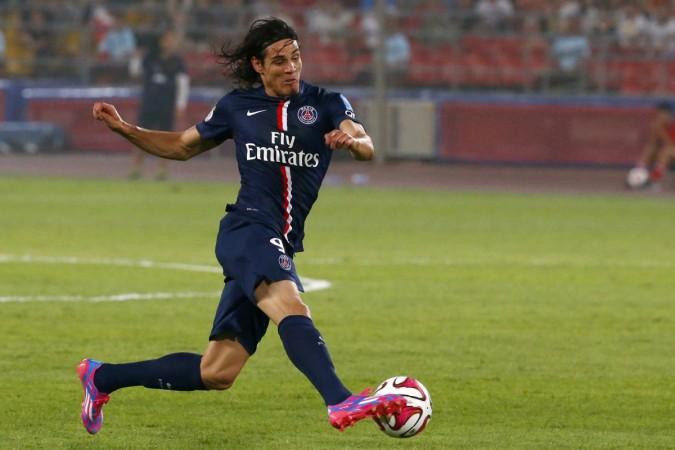 Arsenal are reportedly looking to launch a massive £50 million bid for Paris Saint-Germain striker Edinson Cavani, as Wenger looks for a replacement following news of Olivier Giroud's long-term injury.
The French striker, who looked like he was in a lot of pain following an injury during the Gunners 2-2 draw against Everton, has been sidelined for around 3-4 months after being diagnosed with a broken ankle.
Although Wenger earlier stated that the Gunners had many players - including Alexis Sanchez, Lukas Podolski, Theo Walcott, Joel Campbell and Yaya Sanogo – who could step up in place of Giroud, he seems to have had second thoughts.
While Sanchez, Podolski, Walcott are not orthodox strikers, Campbell and Sanogo are relatively inexperienced to lead the Gunners attack in the Premier League, Champions League and other competitions.
Due to this reason, Wenger is reportedly lining up a whopping £50 million bid for Cavani, according to the Express.
The 27-year-old Uruguayan's future has been subject to a lot of speculation this summer, with the striker being linked to the likes of Chelsea and Liverpool.
Despite claiming that he feels "great in Paris" and is "certain to stay" at PSG this summer, Cavani is believed to be keen on making a move out of PSG after failing to establish himself as the first choice striker at the French club.
PSG manager Laurent Blanc, who has preferred Zlatan Ibrahimovic over Cavani as the first choice striker, usually deployed the Uruguayan in the wings last season, and this switch from his natural centre-forward position is believed to have contributed to the dip in his form.
Now with Liverpool landing Mario Balotelli from AC Milan and Chelsea looking comfortable with their current strikes, Arsenal may have the chance to land Cavani.
Also, Paris Saint-Germain, who are currently having issues with UEFA's Financial Fair Play regulations, may be looking to cash in on Cavani as they themselves are believed to be preparing a shock move for Real Madrid striker Karim Benzema before the end of the summer transfer window.
Meanwhile, Wenger has quashed all the rumours of Podolski's exit, insisting that the German will be remaining at the Emirates this summer.
Earlier there were speculations that the forward was keen to leave the Emirates, with Arsenal also believed to be considering offering the German in a player-plus-cash deal for Wolfsburg's Luis Gustavo.
However, the French boss, who has included the German striker in his squad for the Gunners second leg Champions League qualifying clash against Besiktas, insists that Podolski will not be leaving the Emirates this summer.
"Podolski is in the squad for Wednesday and will stay with us," Wenger told reports during a pre-match conference ahead of Arsenal's clash against Besiktas.