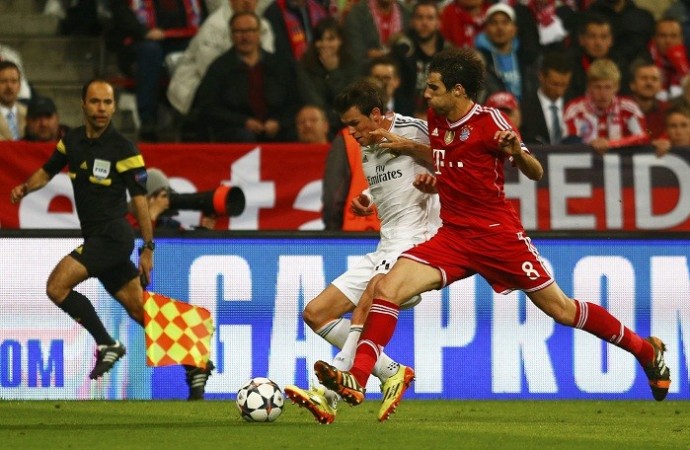 Arsenal are monitoring the situation at Bayern Munich concerning Javi Martinez, after the Spanish midfielder admitted to being unhappy with his lack of playing time at the Allianz Arena this season.
Martinez has been warming the bench for much of the season under Pep Guardiola, with the former Barcelona manager deploying Philipp Lahm in a holding midfield role.
After seeing Bayern crash out of the Champions League in spectacular fashion recently, rumours have persisted of some player unrest in the Bayern camp, with Guardiola also admitting Bayern needed to decide if he was the right man for the job, despite leading them to the Bundesliga title in record=breaking fashion.
The likes of Martinez and Mario Gotze, another player who has been heavily linked with Arsenal in the past, have expressed their dissatisfaction at the lack of playing time this season, leading to suggestions they could leave Bayern in the summer.
Martinez cost Bayern £32 million a couple of summers ago, with the German club meeting the release clause to prise him away from Athletic Bilbao. Arsene Wenger was also reportedly keen on the 25-year-old but had to pull out due to the big transfer fee.
The Gunners, though, showed last summer they are capable of dipping into their vast cash reserves when necessary by signing Mesut Ozil from Real Madrid for £42.5 million, and Wenger might fancy a shot at Martinez, who still has three years remaining on his current contract with Bayern.
The German giants, looking for stability and a long-term plan towards dominating European football, are extremely unlikely to sell Martinez or any of their major players, even if they confess to being a little unhappy.
Arsenal will need to bid some serious money for Bayern to even consider a move, and a switch is only likely if the Spaniard agitates for a transfer.
Meanwhile, Arsenal were dealt a blow in their hopes of landing another Bundesliga star in Lars Bender, after the Bayer Leverkusen midfielder revealed he has no plans of quitting his current club in the summer.
Wenger is thought to have made Bender one of his No.1 priorities, before news of Martinez's possible availability became known, with the manager ready to go ahead with a £20 million move for the German international.
However, Bender insisted he plans to stay at Leverkusen for another season as he does not believe he is ready to make a big move as yet. "I signed my new contract until 2019, and that should have told everyone how happy I am at Leverkusen," he was quoted as saying by Metro. "I feel settled here and see no reason to change anything.
"In fact, if I am to be completely honest, I haven't had a brilliant season and don't feel ready yet to take on a pivotal role at a big club somewhere else.
"I need to keep working on my game, and I am going to do that here at Leverkusen. That suits me, and I am happy with that."
Either of Martinez or Bender would be a big addition to Arsenal for next season, with both dynamic central midfielders capable of owning the centre of the park. With Martinez or Bender in the middle, Arsenal's penchant for conceding goals against rivals will also come down, after huge losses to the likes of Liverpool and Chelsea ended their hopes of clinching the English Premier League title this season.