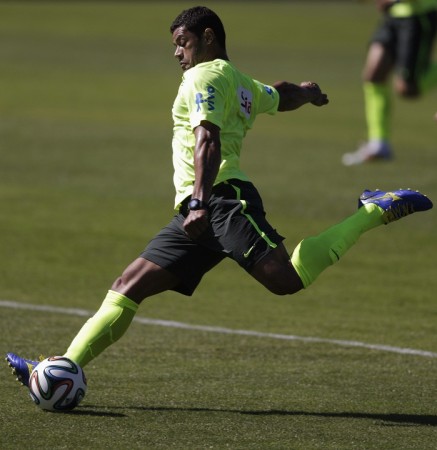 Arsenal are in need of a striker, preferably a versatile forward who can play out wide, behind Olivier Giroud or up front on his own.
Arsene Wenger recently admitted his search for quality players was not going to be easy owing to the strong competition from clubs around Europe, but that does not exactly stop rumours of pretty much every striker who could move to the Premier League signing for Arsenal.
The latest one to do the rounds is of Arsenal reportedly making a bid to sign Brazil and Zenit St. Petersburg striker Hulk.
According to NBC journalist Michael Stafford, Arsenal have put in a £20 million bid for Hulk. While Hulk ticks all the boxes for the kind of forward needed at the Emirates, the one that does not quite get ticked is the price.
Hulk moved from Porto to Zenit for a massive price of around £40m, and it is extremely unlikely that Zenit will accept a price anywhere near £20m.
Of course, Arsenal and Wenger are quite cautious when it comes to making a move in the transfer market, especially when there is a lot of money involved and this could just be a feeler of a bid to see if the player and the club will be willing to negotiate.
Hulk, who has been heavily linked with Chelsea over the past couple of summers, has suffered racism issues in Russia, but with his manager from Porto Andre Villas-Boas currently at the helm at Zenit, it is unlikely that the Brazilian will ask for a move.
Arsenal desperately need an established striker in their ranks to help them push for the English Premier League title as well as the Champions League.
The goalscoring position is the one that needs filling the most, and Wenger, after seeing Giroud struggle to carry the goalscoring load on his own, will know the importance of bringing in reinforcements, with the likes of Loic Remy, Antoine Griezmann, Carlos Vela, Mari Mandzukic and Karim Benzema all heavily linked.
Hulk, who is currently preparing to help Brazil win the World Cup at home, would be a decent move, for the right price; unfortunately from Arsenal's point of view, that price has little chance of being right, even if Wenger has shown he can loosen the purse strings.