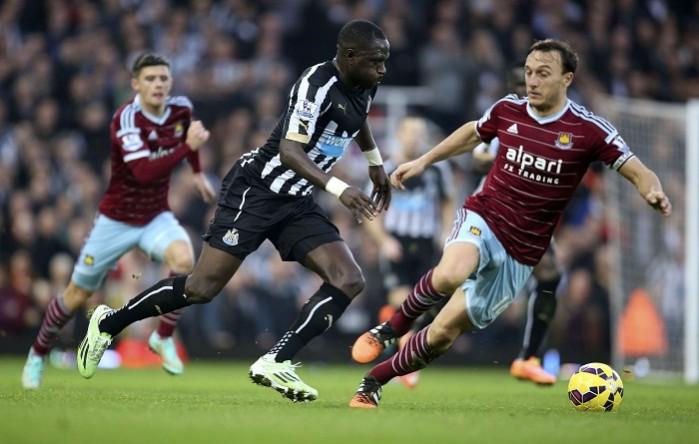 The midfield hunt continues in earnest for Arsenal , with Arsene Wenger reportedly indentifying Moussa Sissoko of Newcastle United as the ideal candidate to add some quality to his squad in the January transfer window.
Wenger is expected (or perhaps that should be hoped) to dip into the January transfer market to sign a central defender and a defensive midfielder, with Mats Hummels, Ron Vlaar, Aymeric Laporte, William Carvalho, Sami Khedira, Lars Bender and Morgan Schneiderlin some of the few names that have been linked with a move to Arsenal for the central defensive and defensive midfield roles.
James McCarthy was the latest candidate reportedly being considered by Wenger for the midfield position, with Sissoko now joining that list.
Sissoko has been exceptional for Newcastle this season, acting as their driving force and a vital catalyst towards their resurgence in the English Premier League after a difficult start.
The France international was linked with a move to Arsenal before signing for Newcastle, and Wenger is now reportedly considering a £15 million January bid for the midfielder, according to the Sunday Times.
Newcastle resisted an offer from Arsenal for Yohan Cabaye in the summer of 2013, and it remains to be seen just how the Premier League club look at this offer, if it were to be made in the January transfer window.
From Arsenal's perspective, while Sissoko will provide undoubted quality and versatility – he can play out wide as well – he is not exactly the kind of player that Arsenal require, even with Jack Wilshere ruled out with a serious ankle injury for three months.
Arsenal have plenty of players who can bomb forward, but very few who will stay disciplined and protect the back four. Sissoko might not be the worst of defensive players, but he is more of a box-to-box midfielder than a sit-and-ensure-the-back-four-is-protected screener.
Too many times Arsenal have been caught out on the counter-attack with too many bodies ahead of the ball, and Sissoko also has the penchant for making that run through midfield and into the opposition's box.
What Arsenal strictly require, apart from the obvious central defender, is a player who does not deem it necessary to pour forward at every opportunity, someone who will cut out play, make the tackles and interceptions, take the yellow card if necessary, all the while not slowing down the pace of play when in possession.
That sort of player is not easy to get, as Arsenal probably found out in the summer, but someone like a William Carvalho would make more sense than Sissoko, even if the latter has the advantage of Premier League experience.