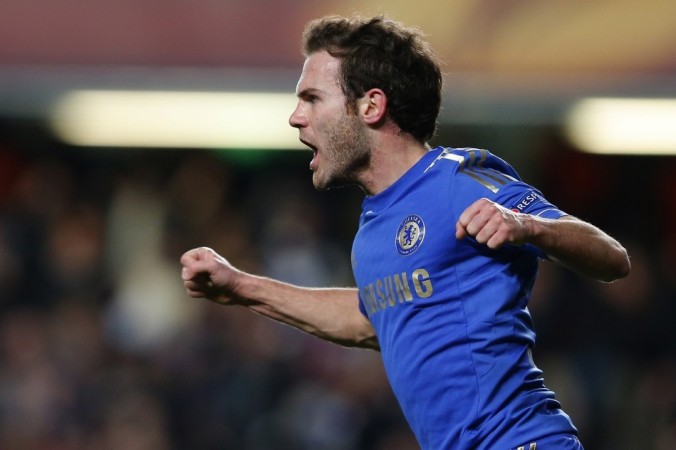 Arsenal manager Arsene Wenger, whose club has been persistently linked with players from across Europe this summer, has sparked off a fresh new round of transfer speculation. This time, it is Chelsea playmaker Juan Mata, who is considered to be available for transfer after not featuring regularly for Jose Mourinho's side this season. Mata did not play in Monday night's 0-0 draw between Manchester United.
"I like him [Mata]," Wenger is quoted by ESPN. "I have heard like you because I watched the game last night [0-0 draw], that Juan Mata could be on the market. I don't know. There is, anyway, a reluctance in England to sell to each other."
Wenger, although conceded that he liked the player, is skeptical about his club's chances of signing him from a Premier League rival.
Speaking after Arsenal's 2-0 win against Fenerbahce on Tuesday, the Frenchman refused to be drawn into further discussions over transfer targets.
"I don't know what to say anymore (on transfers), I've said it all before," he said. "There is nothing new to report. We want now to prepare for the next game and leave all the rest. We work hard on it and we do the maximum. I cannot tell you more than we are on the market. Everybody knows. The whole world knows that now."
To avoid repetition, Wenger decides to stay mute on the subject.
"I cannot be more creative than that in the press conferences because all has been said and nothing has been concluded yet so I can understand your questions but I cannot give you more answers at the moment," he explained.
With Tuesday night's win, Arsenal ensured their progress into the group stages of the Champions League for the 16 consecutive season. Wenger is proud of the achievement.
"I believe that at the top level, the most difficult is to be consistent," he said. "Of course it's an achievement because if you look at the clubs in Europe who have done it, there are only three clubs that have done it in the whole of Europe."
"I hear a lot that it's not enough and I agree with that," Wenger continued. "But still it shows that we have been remarkably consistent. Our ambition is much higher than that and I take that on board from everybody."