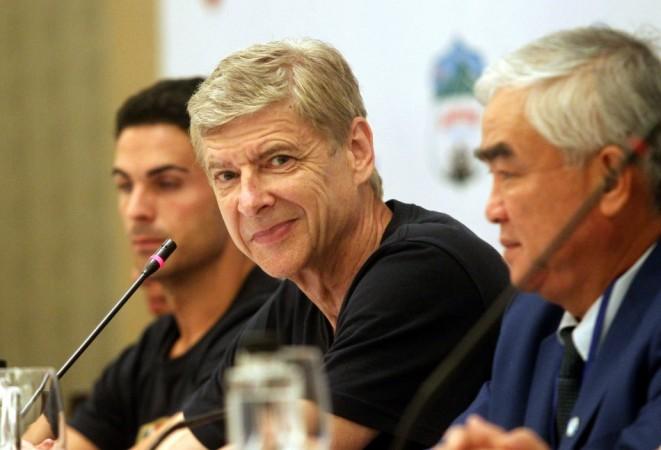 Amid rumours of a renewed bid for Luis Suarez, Arsenal manager Arsene Wenger has hinted that Gunners are poised to make a spectacular signing this summer, but cannot mention names.
"You want me to announce a spectacular signing but I can't," Wenger said in Vietnam, ahead of Arsenal's pre-season fixture against the country's national team.
"We are working behind the scenes to strengthen the squad, but I can't give you names," he added.
Wenger's comments follow reports of an increased £35 million bid for Liverpool striker Luis Suarez, after the Merseyside club rejected a £30 million offer. Liverpool managing director Ian Ayre confirmed that a bid had been made but still hopes Suarez will stay at the club.
"We had an offer which is fairly public from Arsenal," Ayre told Bloomberg. "We said no to that offer, and as far as we're concerned he turns up for training when he's due back. And we'll move forward on that basis."
Suarez, like he has on several occasions in the off-season, spoke of the attractiveness of Champions League football, which Arsenal can provide.
"I've heard him say it would great to have an opportunity to play for Arsenal and likewise Real Madrid," Ayre continued. "But he certainly hasn't called me up and said he wants to leave."
"This is an ambitious young player, he's talked in the media about wanting to play in the Champions League and all these things," Ayre explained. "It's our job to convince Luis that this is the right place to achieve those things."
"We'd love to see Luis put on a Liverpool shirt for this season and beyond and we hope that once he gets back things will settle down," he concluded.
With Arsenal also linked with Gonzalo Higuain and Wayne Rooney it seems like a major signing is imminent. If Wenger can pull-off the signing of Suarez, the squad could score the goals needed to win the title. Wenger was coy on his team's chances of finishing top of the league next year, believing it to be an open race.
"The next Premier League season will be interesting," Wenger said. "Many teams can win the title. Chelsea will have a good team, the fact Sir Alex Ferguson has retired brings some uncertainty to Manchester United - but Moyes is there and I'm sure they will be candidates to win the PL."