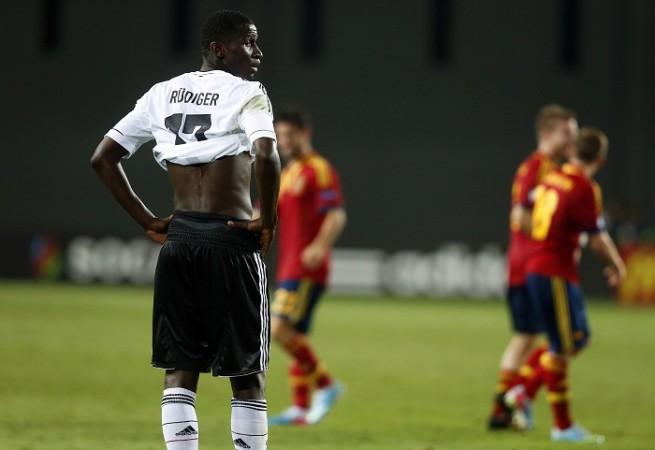 Arsenal manager Arsene Wenger could have sealed the signing of the much-needed central defender already, with reports suggesting Antonio Rudiger has already agreed a move to the English Premier League in January.
Rudiger has been scouted and linked with moves to several Premier League clubs, including Chelsea and Manchester United. But, Arsenal are thought to be in pole position to land the Germany international from Stuttgart, after the 21-year-old professed his love for the club recently.
With Arsenal in desperate need of a centre-back, it does look like a match made in heaven, and according to reports, a deal could already be in place for Rudiger to make his move in the January transfer window.
"At this moment, Antonio's mind is made up and he wants to move to England, and that could be as early as January," a source close to the player told Goal.com.
"He knows the clubs that want him and he knows he has a number of options, but at this moment it remains to be seen whether Stuttgart would entertain him leaving before next summer."
Chelsea were thought to be the leading candidates for the signature of Rudiger, with Jose Mourinho and the club scouts keeping a close eye on the talented defender.
However, after Rudiger made public statements of him being an Arsenal fan, Wenger and co. moved ahead of the likes of Chelsea and Manchester United for the German's signature.
"I have always dreamed of the Premier League," Rudiger told the Bild last month.
"I have been following Arsenal since the days of [Thierry] Henry and [Dennis] Bergkamp.
"I watch videos of Arsenal all the time on YouTube and I often wear the current Alexis Sanchez shirt.
"My heart beats for Arsenal."
If there is one thing that is clear at the moment it is that Arsenal need to sign a central defender in the January transfer window.
With Laurent Koscielny injured for an unspecified time, and Mathieu Debuchy still a while away from a comeback, Wenger has been forced to play left-back Nacho Monreal at the heart of the defence, with Calum Chambers playing right-back.
While this patched-up defence is already a crisis, despite the decent defensive performances in the last couple of games, it will become a full blown one if one of the current fit defenders suffers an injury.
Wenger will hope that is not the case, but to avoid such a situation in the second half of the season, Arsenal certainly need another centre-back. Signing Rudiger in January, especially since he would jump at the chance of playing for the club, makes a lot of sense.
It just remains to be seen if Wenger deems Rudiger as the ideal candidate and also if Stuttgart are willing to sell their player midway through the season.