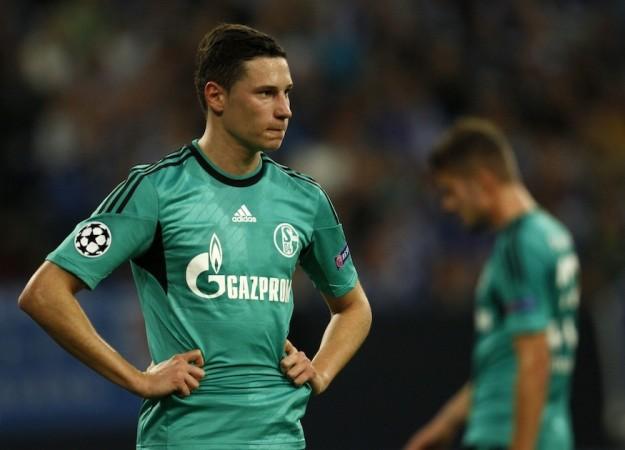 Arsenal have received a major jolt in their chase for Germany international Julian Draxler, with Schalke insisting the playmaker is going nowhere, certainly not in the January transfer window, or maybe even next summer.
Arsene Wenger was thought to be close to agreeing a move for Draxler, according to widespread reports in the UK, with Arsenal's transfer fixer Dick Law on Wednesday flying to Germany to try and complete a deal.
However, those reports seem to be off the mark, with Schalke sporting director Horst Heldt adamant over f Draxler's situation.
"I am very sure that Julian will play in the second half for us -- and probably beyond," Heldt said.
"We are not interested in letting Julian go and he has also not come to us with the wish to leave the club."
Heldt, though, did admit if the club were to receive a big offer for the 20-year-old, then they would have to consider it, even if they will not be forced to sell.
"Of course, there is always interest in him and if someone was to come and make a serious offer for him, then we would have to deal with that professionally," Heldt added.
"That applies not only for Julian, but for any other player."
Heldt also busted reports of Draxler having a £37 million buy-out clause inserted in his contract, with the Schalke supremo saying the clause was applicable only last season.
"That agreement was only in place for last year," he said. "From now on, the transfer fee is up for negotiation."
Of course, all of this could just be posturing from the German club, to ensure they get the right price for undoubtedly their biggest asset, with Arsenal believed to value Draxler at around £30 million.
Wenger, on Thursday, revealed the club were looking for new recruits, but said no new signings were imminent, despite the transfer window closing on Friday night UK time.
"Are we active? Yes," Wenger told Arsenal Player. "Are we close to sign anybody? No.
"There's not long now that's true. First, the situation was going like always in a transfer market - week by week. In the last two weeks it goes day by day, now it goes hour by hour.
"In any hour anything can happen or change but at the moment, unfortunately, we are not signing anybody."