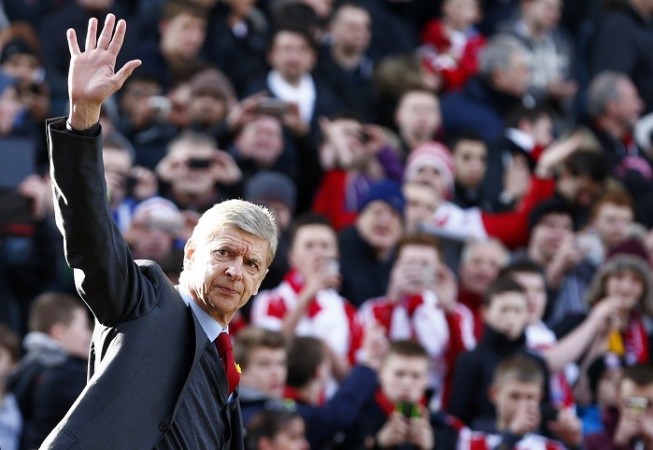 Arsenal manager Arsene Wenger is reportedly set to sign a new contract and get a transfer budget of £100 million in the next 72 hours after helping the Gunners win the FA Cup and end their nine-year trophy drought.
The Frenchman, who has been with Arsenal since 1996, will reportedly be offered a three-year deal worth £8m-per-year, according to the Daily Mail.
When asked whether he would be signing a new deal soon, the 64-year-old Frenchman replied, "Yes - because I go to Brazil on June 10."
The Gunners are also reportedly going to give Wenger a £100m transfer kitty so the club can build on their FA Cup success and aim for other trophies such as the Premier League next season.
However, Wenger's first priority this summer will be to convince right back Bacary Sagna and goalkeeper Lukasz Fabianski to stay on at the club. While Sagna is unhappy as Arsenal have refused to meet his £100,000 per-week wage demands, Fabianski wants to leave as he has failed to establish himself as the Gunners' first choice goalkeeper.
After that, Wenger is reportedly looking to sign a striker, a defensive midfielder and a right-back to strengthen the Gunners squad this summer.
Real Madrid's Karim Benzema and Bayern Munich's Mario Mandzukic are believed to be the Frenchman's preferred striker options this summer.
Although Benzema may be available if Real Madrid manage to sign Luis Suarez this summer, getting Mandzukic's signature will be a little difficult for Arsenal as Chelsea are reportedly set to get the Bayern Munich man plus £15m for their defender David Luiz.
Morgan Schneiderlin (Southampton) and Lars Bender (Bayer Leverkusen) are reported to be the Gunners' midfield targets this summer.
Arsenal will also face competition for Schneiderlin's signature as Napoli are said to be interested in the midfielder. Bender, on the other hand, may be available for a little higher price as he recently signed a new contract with Leverkusen.
Finally Wenger's right-back options are Serge Aurier (Toulouse), Calum Chambers (Southampton) and Micah Richards (Manchester City).
Although Arsenal will be facing some competition for the signature of Richards, mainly from Liverpool, they certainly have a very good chance of getting Aurier and Chambers
"First we have to wait for Sagna and see what he will do - also Fabianski. After we have to bring in two to three players to strengthen the squad, that's for sure. Unfortunately everywhere we go there are many teams on the market at the moment," said Wenger.