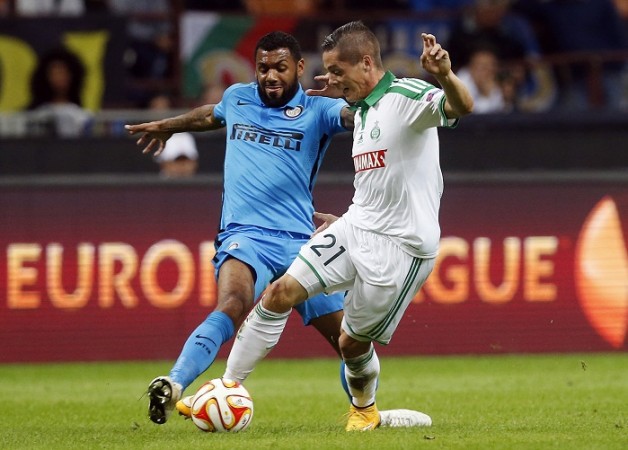 Arsenal manager Arsene Wenger is looking at the possibility of signing one of his old targets – Yann M'Vila – in the January transfer window.
M'Vila was constantly linked with a move to Arsenal a couple of summers ago, with the France international midfielder eventually moving to Russian side Rubin Kazan.
The defensive midfielder did not have the greatest of times in Russia, and forced a move through to Inter Milan, where he is currently on loan.
However, things have changed at Inter since, with Roberto Mancini taking charge, throwing M'Vila's future into doubt.
Mancini is looking at signing Liverpool's Lucas Leiva during the January transfer window, which could lead to M'Vila, who has only made three Serie A appearances this season, being pushed out of the club.
Arsenal could take advantage of that situation and make a move for M'Vila, according to the Daily Express, with the midfielder unwilling to return back to Rubin Kazan.
Wenger is keen on adding a central defender and a central midfielder to his squad during the January window and if the manager can manufacture a cut-price move for M'Vila it would allow him to spend more on signing that centre-back that Arsenal have desperately required this season.
M'Vila, though, is not the same player that made waves during his time at Rennes, which led to some of the biggest clubs in Europe tracking him.
However, at 24, his best years could still be ahead of him, and there is no better manager than Wenger to get the best out of a young player.
If Wenger can agree to a transfer, be that a loan or a permanent one, without disrupting the budget too much, then it could be something for Arsenal to ponder upon seriously.
Arsenal need a strong, physical defensive midfielder, and with Wenger unlikely to get some of his marquee targets next month, maybe a short-term option for M'Vila, even if he might not be the greatest of form players, might just work out.
However, if a William Carvalho or a Morgan Schneiderlin does become available in January, then Wenger should not hesitate in making a move for one of them, because Arsenal do need a quality central midfielder, who can just give them that extra bit of steel in the middle, desperately.