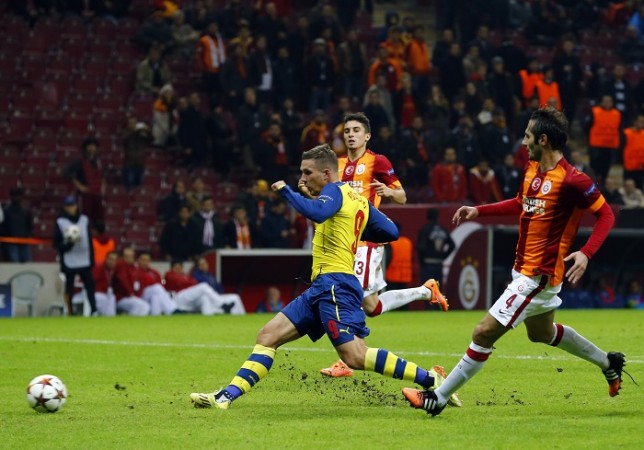 Arsenal striker Lukas Podolski edged closer to sealing a six-month loan deal to Inter Milan after the Germany international flew to Italy to undergo a medical and hold some final talks with the Serie A giants.
The 29-year-old striker, who completed a £11m stitch from German side Cologne in the summer of 2012, has been very unhappy at Arsenal after falling out of Arsene Wenger's favour this season.
Podolski, who was a part of the Germany squad that won the 2014 World Cup in Brazil, has not started in a single Premier League fixture this season, with Wenger favouring the likes of Olivier Giroud, Danny Welbeck and Yaya Sanogo ahead of him to lead Arsenal's attack.
Due to this, the German was keen to make a move out of the Emirates, with Inter Milan believed to be interested in securing his signature on a loan deal for the rest of the season.
Although Wenger had earlier labelled Inter Milan's initial offer for Podolski as "farcical", the Frenchman later revealed that the Serie A had made a "bit more serious" approach.
And now it looks like he has accepted Inter Milan's offer for the former Bayern Munich striker, as the German was seen being warmly welcomed by the Nerazzurri fans in Italy on Friday.
It is believed that Inter Milan are just waiting for the striker to undergo a medical and discuss some final contractual details before the deal is officially announced.
And Podolski, who has time and again expressed his frustration and unhappiness at Arsenal, says that he is happy to be moving to Inter Milan.
"I am very happy to be joining Inter," said Podolski, according to Goal. "I expect so much from this adventure."
The German, who insists that he is familiar with the Serie A, says he is already planning to "qualify for the Champions League" and triumph in the "Europa League" this season.
"I know the Italian league very well. We are aiming to qualify for the Champions League and to win in the Europa League. I have spoken with Mancini and I think he is a great coach."