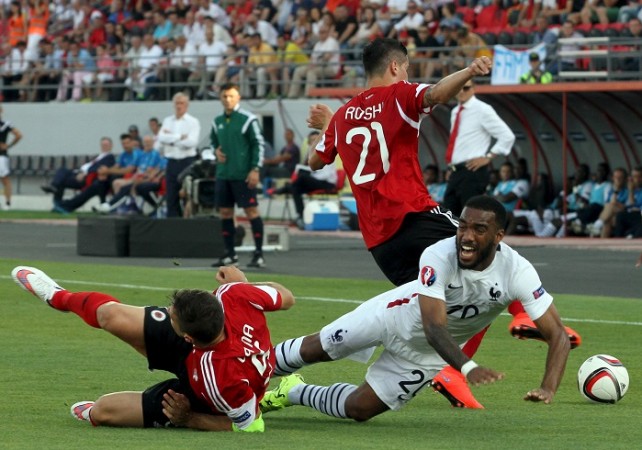 Strikers is the name of the game it seems for Arsenal at the moment, as Arsene Wenger's side continue to be linked with some of the best/available forwards in this summer transfer window.
The likes of Edinson Cavani and Gonzalo Higuain have been tipped for moves to Arsenal, but it is Alexandre Lacazette and Karim Benzema that seem to be the flavour of the upcoming week.
Lacazette is currently in a contract dispute with Lyon, and having had a brilliant goalscoring campaign in Ligue 1 last season, the inevitable interest has come the striker's way.
Liverpool were thought to be the initial frontrunners for Lacazette's signature, but Arsenal will have the upper hand owing to the fact that they can offer the France international striker Champions League football.
Lacazette has been rated around the £30 million mark, which, while being high, is understandable considering the paucity of really good strikers in the European game at the moment.
Latest reports suggest Lyon have given the go-ahead for Lacazette to leave, with Arsenal leading the chase.
Another striker who has reportedly been told he can leave is Benzema, with Real Madrid prepared to sell the striker in this transfer window, according to Fichajes.
Benzema's future has been thrown into question after reports claimed Rafa Benitez, the new Real Madrid manager, is set to use Cristiano Ronaldo as the No.9 for the new season.
If that is the case, it will mean a place on the bench for Benzema, something the France international striker, with Euro 2016 coming up, will not be too happy about.
You never know what Real Madrid will do during a transfer window, and if Benzema becomes available, there is a good chance that Arsenal will go for him.
Wenger also admitted more new faces will probably be dependent on the market forces, and if the players he wants become available.
"That doesn't depend only on us, it depends on whether we can find them, but if we can find one or two players we will do it," Wenger said in Singapore, where Arsenal are preparing to play in the Asia Trophy.
"It depends, if we find ideally what we want, we are still hoping to do something else."
PSG are also circling in a bid to sign Benzema, and if they do – likely, as they can outbid Arsenal, especially following the relaxing of FFP rules -- then one of Zlatan Ibrahimovic or Edinson Cavani, if not both, will become available, which is exactly the kind of thing Wenger was talking about.
Arsenal could use another central striker, that marquee name, to fire them to the Premier League title. But, if that signing does come, it is more likely to happen towards the end of the transfer window, which means a lot more biting-of-the-nails-wondering-what-will-happen for the Gooners out there.