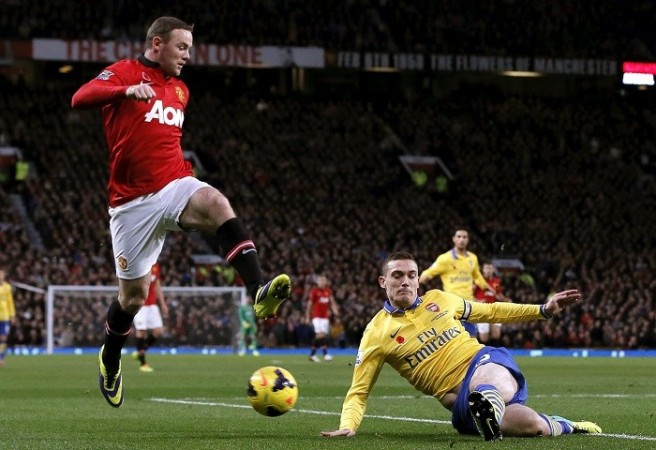 Arsenal skipper Thomas Vermaelen insisted he has no plans to leave the club in the January transfer window, despite finding first team opportunities limited this season.
Vermaelen has been demoted to third-choice following the tremendous form of Per Mertesacker and Laurent Koscielny at the back, which has seen the Belgian international hardly feature in an Arsenal side which sits top of the Premier League table.
That has led to the inevitable suggestions of an exit for the central defender, who turns 28 on Thursday, with several teams including Barcelona linked with a move.
However, Vermaelen was resolute in his desire to stay at Arsenal and fight for his place, which he is confident will come sooner rather than later.
"I'm still confident I can play for this club," Vermaelen told the club's official website. "I keep reading stories that I want to leave. But that's not the case. I'm still focused on the team. I am always positive.
"In any case, it is not about my situation. It's what the team do and I am really happy that we're top of the league."
Vermaelen was handed a surprise start against Manchester United on Sunday, after Mertesacker had to be withdrawn due to illness. The former Ajax man did pretty well to keep the likes of Robin Van Persie and Wayne Rooney at bay in open play, with a set-piece proving the be the difference in the end.
"It wasn't hard [to perform after the sudden call-up]. I go into every game ready to play," he said. "I always make sure I'm mentally ready and physically ready, so for me it wasn't difficult.
"I knew it could happen at any moment so I'm always ready. I've been saying it for weeks and months and all of a sudden it happened."
Vermaelen was disappointed to come away without a single point against United, after Arsenal failed to trouble the United defence enough over the 90 minutes.
A win over United could have seen Arsenal extend their lead over the reigning champions to a massive 11 points, but the Belgian maintained the team remain confident of keeping their hold at the top despite losing at Old Trafford.
"We lost the game to a set-piece and that's a bit frustrating," he added. "Neither side really created too many chances. We didn't play well enough in possession of the ball to create any chances or score goals.
"We wanted to win the game and went to Old Trafford to do that. We were eight points ahead of United going into the match and had the chance to make it 11 points. It was a bit of a missed opportunity.
"But we're still top of the league and need to keep the confidence we've had over the last couple of weeks. There's no reason for that to change dramatically. We're still confident we can win games and we have a long way to go."