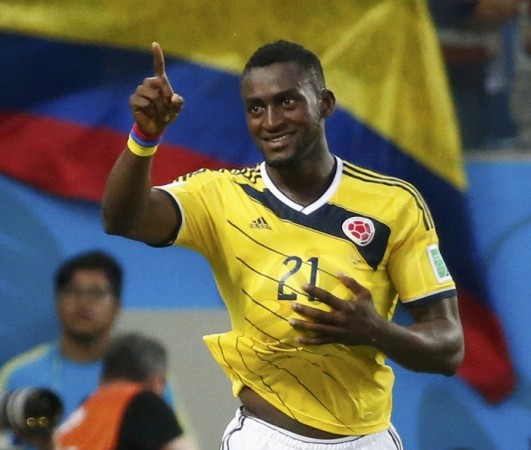 Arsenal have already signed their marquee attacking player for this most exciting of summer transfer windows by forking out over £30 million to bring Alexis Sanchez from Barcelona. And Arsene Wenger himself came out and said he would not be doing any business in the striker department. But that should not stop the rumours of one outstanding striker after another joining, should it?
The latest to be linked with a move to the Emirates is a familiar name, one that has time and again been tied up with a possible switch Arsenal. Jackson Martinez is a striker who knows where the back of the net is, and someone who has come out and professed his love for the Gunners.
"I cheered for Arsenal when I was a kid -- I love their style of play," Martinez said a while back. "It's flowing and open with a lot of first touch passes. It would be suitable for a player like me.
"If I get a chance to play for a high level club like Arsenal I wouldn't hesitate to accept it."
So, if Wenger does consider making a bid for Martinez, he would have to beat out competition from Valencia, who are thought to be keen on agreeing a deal with Porto, the Colombian's current club.
According to the Daily Express, Martinez has delayed his return to Porto, which has naturally sent those rumour waves into searing heights, with the likes of Arsenal, Manchester United and Chelsea all linked.
None of the three English Premier League teams, though, really need a striker. Manchester United have Wayne Rooney and Robin Van Persie, along with Danny Welbeck and Javier Hernandez, while Jose Mourinho strengthened his Chelsea squad by spending over £30 million on Diego Costa – Martinez, incidentally, also has a similar buyout clause in his contract.
Wenger has Olivier Giroud as his No.1 central striker, while Sanchez, Theo Walcott and Lukas Podolski can all play in that role if needed. The Arsenal manager also has youngsters Joel Campbell, so impressive at the World Cup for Costa Rica, Yaya Sanogo, Chuba Akpom and Benik Afobe, who all have the capability to step up and make that breakthrough in the coming season.
"Up front we don't need any more," Wenger told reporters after Arsenal's opening preseason game against Boreham Wood on Saturday. "It's not especially for numbers.
"We need a goalkeeper for sure and, after that, it depends on how our midfielders get through without injuries until the start of the season. Maybe at centre-back we'll still bring one in."
Therefore, spending £30-odd million to bring in another striker might not be the greatest of ideas, and nobody will know that more than Wenger. Martinez, however, is a forward capable of scoring 30 goals in a season, and such players are worth their weight in gold.
The Colombia international would also be a natural fit at Arsenal, considering he is a fan and his ability to play the single striker role, which Wenger now prefers.
As Wenger has said in the past you can never have too many good players in a squad, and maybe the manager will revisit the possibility of a deal once he strengthens in the positions that he needs to at the moment – goalkeeping, defensive midfield and central defence.