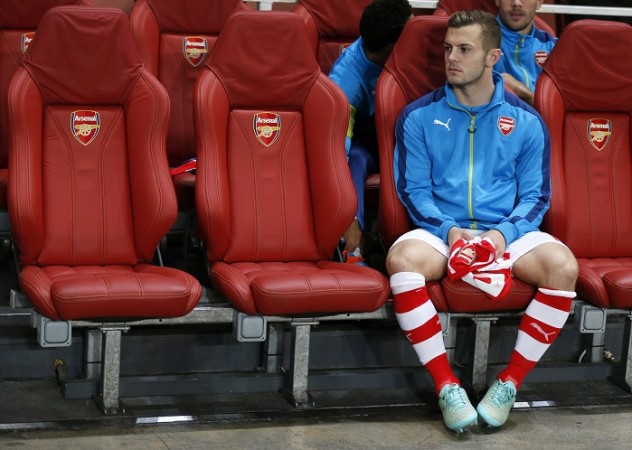 The Jack Wilshere to Manchester City transfer rumour train shows no sign of running out of fuel, with the latest reports suggesting the soon-to-be ex English Premier League champions are considering a major bid in the summer to tempt Arsenal to sell their midfielder.
Arsene Wenger has already made his feelings over selling Wilshere clear, with Arsenal also reportedly telling City and any other interested clubs that the England midfielder is not for sale.
However, according to the Mirror, Manchester City are ready to put in a £30 million bid to try and make Wilshere their player come next season.
So, now the question becomes should Arsenal even consider selling Wilshere to Manchester City, or indeed, any other club?
Wilshere has just not been able to keep that injury bug off him in recent seasons, with the midfielder missing a large chunk of this campaign as well due to an ankle injury suffered in the game against Manchester United in November.
The healing took a lot longer than expected, with the midfielder's return further delayed after another minor surgery was performed to take a pin from his ankle.
Wilshere has finally returned to full fitness after playing a couple of U-21 games for Arsenal, and was on the bench during his team's 0-0 draw with Chelsea.
Wenger has not used him so far, and, knowing the Arsenal manager, he will be quite wary of bringing on Wilshere unless absolutely necessary. That pesky ankle injury, be that on the right foot or the left, just does not seem to be leaving him at the moment, while other fitness issues have also constantly dogged the seriously talented playmaker.
The issue over whether Wenger should even remotely consider selling Wilshere, though, stems from the fact that Arsenal currently have an embarrassment of riches in midfield. And Wilshere, in the current state, will find it difficult to get a regular game in.
Manchester City also probably know that, which is why the champions, desperate to sign as many homegrown players as possible, are reportedly persevering with the transfer, despite being told by Arsenal, who have no compulsion to sell players anymore, Wilshere is not for sale.
With Francis Coquelin making the holding midfield position his own – and Wenger is expected to sign another similar midfielder, with Southampton's Morgan Schneiderlin on top of the list – and Aaron Ramsey, Santi Cazorla, Mathieu Flamini, Tomas Rosicky, Mikel Arteta, Abou Diaby, if he gets a new contract, and Alex Oxlade-Chamberlain all capable of playing the deeper position as well, it does beg the question of "if Arsenal really do need Wilshere?"
However, dig a little deeper, and that question does not become as obvious, as Arteta and Flamini are not likely to stay at Arsenal for too long, while Diaby, even if he stays, is not likely to be able to play too many games, with Tomas Rosicky also into the final few seasons of his career. Couple that with the fact that the Santi Cazorla moving back to Spain rumours just don't seem to be going away, and suddenly those holes in midfield look a lot larger than at first glance.
Wenger knows all this really well, of course, and the Arsenal manager is a huge admirer of Wilshere's talents. The Frenchman knows if Wilshere gets to play one full season completely injury-free, then that midfielder everyone was raving about after the performance against Barcelona in the Champions League in 2011 will return again.
When Wilshere is on song, there are very few more delightful players to watch, and with the midfielder also capable of playing as a No.10, he can be used further up as well, with Mesut Ozil playing in that floating wide role.
Wenger likes to have options galore in midfield so he can tweak the systems – yes, contrary to popular opinion, Wenger does know how to play in systems -- just a touch here and there, and play with that ball-playing wide player if he needs to, which Ramsey has done of late, and Wilshere, himself, has done in the past.
Manchester City have made a habit of poaching Arsenal players ever since they became a financial powerhouse, with Bacary Sagna the latest to move to the Etihad, albeit on a free transfer, last season. Samir Nasri and Gael Clichy are still on the books of Manchester City, while Kolo Toure and Emmanuel Adebayor have also switched allegiances to Manchester in the past.
Losing Wilshere to another Premier League club will be a lot like how the Manchester United fans felt when Danny Welbeck was sold to Arsenal last summer. And even if Welbeck has not exactly set the Emirates on fire with his performances, there is little doubt that seeing a player, born and brought up in Manchester and trained at United, playing for a direct rival hurts.
The same will be the case for Arsenal fans as well if they lose Wilshere to Manchester City, and at £30 million, the price for a 23-year-old England international with oodles of talent, albeit injury-prone, does seem a little low. For Wenger to even consider selling Wilshere, one suspects Manchester City will have to up that bid by a fair few million more, and even then, it might not be enough.