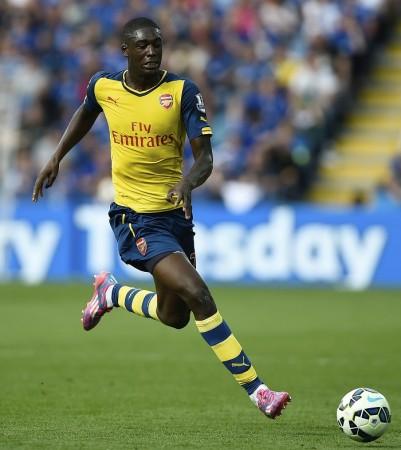 Arsenal need a proper striker, a No.9, who can get you 20-25 goals at least, and someone who can bring the plethora of attacking midfielders into play – that is plain as anything in this world for everyone to see. Just don't tell it to Arsene Wenger, though.
After seeing his side huff and puff their way to a 1-1 draw against Leicester City, even Wenger would have found it difficult to justify that Yaya Sanogo is the solution to Arsenal's striker problems until Olivier Giroud returns from injury in the New Year.
"We can talk and talk and talk about signing someone or not," said Wenger on Sunday. "Could we win the game today without any new signings? Yes. We have plenty of strikers even when we had Giroud.
"When we had Giroud, you asked me the same question so it's a recurrence as long as the transfer market is open to make everybody dream by thinking the solution is always somewhere where it's not necessarily obvious."
That is a typical Wenger answer to a straightforward question -- Which was if he will try to sign a striker before the transfer window closes. While Sanogo has talent and possibly a bright future, for the here and now, the game at Leicester on Sunday emphasised the fact that the Frenchman is not the solution.
Sanogo just does not have that first touch yet, that ability to hold up play, bring the likes of Mesut Ozil, Santi Cazorla and Aaron Ramsey into play, or even find the target with any kind of regularity – after all, he is yet to score for Arsenal in a competitive fixture.
Giroud's link-up play was one of his most underrated abilities, and without someone to, at the very least, do that, let alone score bags of goals, Arsenal will be in deep trouble for this season.
Yes, Arsene Wenger might move into a false nine formation, or use Alexis Sanchez more through the middle, but one thing that became abundantly clear after Sunday's toothless performance was the need for a proper central striker.
Of course, getting a striker who can score over 25 goals a season is easier said than done, and with Loic Remy now moving to Chelsea, after they made the first move, the options have reduced even more.
There are still a few available though with the likes of Jackson Martinez, Wilfried Bony and the two dream ones, from the point of view of the Gooners – Radamel Falcao and Edinson Cavani – still a possibility.
Despite spending around £60 million already in this transfer window, Arsenal still have plenty of money lying unused, and spending a few quid to bring in a couple more players who could make the difference between the Premier League title and third/fourth place should not be a problem.
The only issue is if Wenger will see the necessity to bring in a striker (read one of the four above) and a defensive midfielder (read William Carvalho) and maybe a centre-back.
"We want to and we are open to it," added Wenger. "The pressure to buy is always there, we have to live with that, we try our best. We are very active.
"Is the amount of money we spend unlimited? No, because that's not the way we manage the club. We always try to make the right decision and we have the resources if we think it's the right player."
As frustrating as the manager might seem, though "Arsene knows" has been proven time and again over the past 18 years and come transfer deadline day on Monday, maybe Wenger will pull those few rabbits out of the hat and make everyone associated with the club grin from ear to ear.