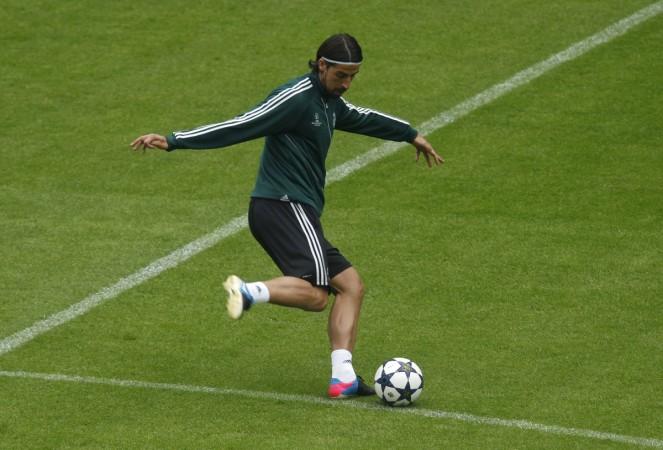 Real Madrid boss Carlo Ancelotti has rubbished all speculations of Arsenal successfully agreeing to a deal for Sami Khedira, insisting that the German midfielder will remain at the Bernabeu till at least the end of the 2014/15 season.
The 27-year-old defensive midfielder, whose contract with Real Madrid is set to expire this summer, has been linked with a move to a number of clubs including Arsenal and Bayern Munich of late.
Earlier there were reports of the Gunners successfully agreeing to a deal with Real Madrid over the transfer of Khedira, but Ancelotti has dismissed all these speculations, insisting that the German is a the Los Blancos player till his contract expires next summer.
"I've heard nothing," said Ancelotti, according to ESPN, on being asked whether Arsenal had successfully struck a deal with them for the transfer of Khedira in the winter transfer window.
"They're just rumours. He's our player, at least until June 30. Khedira is a player of Real Madrid and I treat him as such."
Despite him quelling the speculations on Khedira future, the Italian boss is believed to be already lining up a move for the German's replacement Lucas Silva should he depart in January.
The Los Blancos have been heavily linked with a move for the young Brazilian even though they are yet to reach an agreement with Cruzeiro over the transfer fee for Silva.
It is believed that Real Madrid feel that Cruzeiro's asking price of €15 million is too much for a relatively inexperienced player like Silva.
Still the move may go through as Silva has hinted at joining the European Champions in January.
"A lot has been said about me and about Real Madrid's interest," said the 21-year-old, according to Spanish publication Marca. "The market in Europe opens in January and from that point on anything could happen."
"Playing for Real Madrid is a dream and in my thinking it would be a step forward," added the Brazilian. "There needs to be an agreement that benefits me and Cruzeiro, but I'm relaxed. I'm playing for a fantastic team and I want to carry on making history."
"What I can say is that nothing has been decided. I'm a Cruzeiro player, I had a really good year and anything could still happen. I've got my aims and objectives.