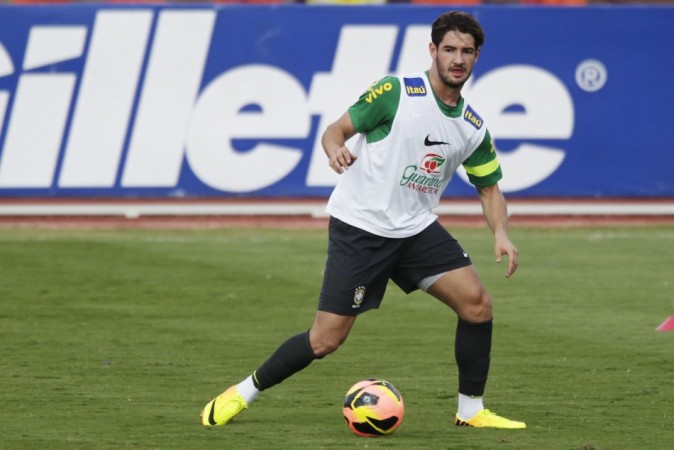 Alexandre Pato could be on his way to the English Premier League with Corinthians admitting the reported Arsenal and Tottenham target could be sold in the January transfer window.
Pato reportedly turned down a move to Spurs in the summer, but with Arsenal also showing an interest off late the Brazil international could move back to Europe, just a year after signing for Corinthians from AC Milan in January this year.
Pato recently claimed he rejected a switch to Tottenham in the summer after receiving an offer from the Premier League side. "Tottenham had called Corinthians to ask for my transfer," the 24-year-old was quoted as telling Brazilian TV station SporTV. "I sat at the table with the club and my agent and I decided I wanted to stay."
Reports suggest Spurs are ready to reignite their interest in Pato, with Corinthians director Roberto Di Andrade, whose side paid Milan £12.2 million for the striker's services, admitting a move back to Europe was possible.
"Considering his value, I think it's hard that he moves to another Brazilian club," De Andrade told Radio Bandeirantes. If those two clubs [Arsenal and Tottenham] are interested in Pato, we don't rule out selling him in the winter transfer market."
The striker has undoubted quality, even if that talent has sparkled only occasionally off late, and if he can keep himself fit, he would be a great addition to any squad. Arsene Wenger needs a forward in his squad, with Arsenal, at the moment, only having Olivier Giroud as a proven player in the striking position.
Nicklas Bendtner has failed to convince, while Yaya Sanogo and Chiba Akpom are still learning their trades, leaving Wenger relying heavily on Giroud.
While the likes of Karim Benzema and Robert Lewandowski continue to be linked with a move to the Emirates, Pato could be a decent shout with the transfer fee expected to be considerably lesser.
Lewandowski is thought to have made his mind up to sign for Bayern Munich, despite reports to the contrary, while Benzema, if he is let go by Real Madrid in January, will cost a good sum of money, while also being cup-tied in the Champions League.
At 24, Pato still has his best years ahead of him, and there is no better manager in the world to get the best out of a player than Wenger.
The Arsenal manager might have a couple of other options up his sleeve, but if they fail to materialise a quick swoop for Pato might not be such a bad idea.