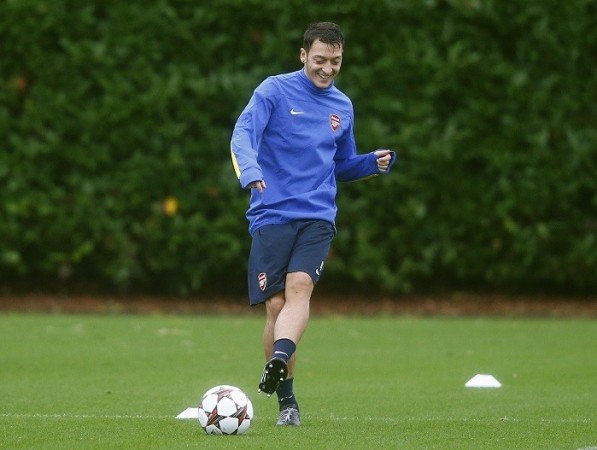 Arsenal bringing in Mesut Ozil in the summer showed Arsene Wenger still has the drive to be "number one", said the club's second highest shareholder Alisher Usmanov.
The Gunners have made a bright start this season, which sees them sitting top of the English Premier League, as well as on the brink of qualification to the Champions League last 16 from the toughest of groups.
Usmanov, who in the past has criticised Arsenal's transfer policy and lack of ambition to win trophies, has been pleased with the progress seen this season, and believes this could be the beginning of a new era for the club.
"I never said anything bad about the club or somebody personally," he said in an interview with BBC Sport. "I said what, in my view, we can do -- not better -- but more effectively. I continue to keep this right for me.
"If I am [a] fan, if I am [a] shareholder and my team is in position number one, of course I am very happy. I hope this result keeps on until the end of the season. I wish this [for] my club.
"The club and team demonstrate Arsene Wenger's capacity to be number one. This is Wenger's responsibility and his vision. He does not every time have the possibility to solve this. Now I think he has this possibility and we support every effort to make our club [the] best.
"In the past I tell the club that if they want to pretend to be number one in every tournament then they must have best players in the world, and if we don't have them in our squad we need to buy these in the market. Wenger confirmed this by buying, for example, [Mesut] Ozil.
"I don't think somebody heard me but in any case anything that gives to Arsenal, good results, is for us very good news. This is our mission and hope. We wait -- I think we begin a new era for Arsenal where we win trophies. It's most important for football, winning trophies. We will be number one."
Usmanov holds almost 30 percent of shares at Arsenal and is the second highest investor after majority-owner Stan Kroenke. The Uzbekistan-born, who still does not have a place on the Arsenal board, defended the Premier League clubs' recent penchant for overseas investment with the likes of Liverpool, Manchester United, Chelsea and Manchester City all in the hands of owners outside England.
"It's an artificial question which somebody wants to put on the table," he added. "Everyone who has legal right to buy something can perform this right. "We have Kroenke, [Aston Villa's Randy] Lerner, many, many people and now many Asian owners. I think everyone is comfortable if the club are successful.
"If the club are not successful then, of course, everybody wants to find somebody guilty."
"I'm sure it is good [for English football]. When investors come and invest in the economy, in British football, it is a big part of the entertainment economy in the United Kingdom. What's bad?"