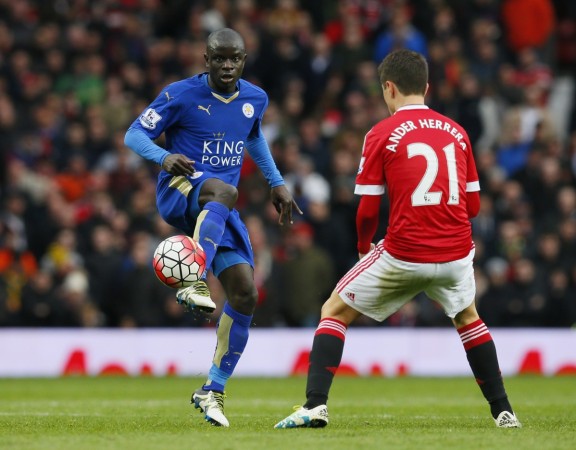 N'Golo Kante, one of the best players in the Premier League this season, is considering a move to Arsenal from Leicester City this summer. Kante is one of the most sought after players at the moment, following an outstanding season with the champions.
The France international has a £20 million release clause in his contract, according to reports in England, slotted in when he signed from Caen for a mere £5.6 million last summer. The 25-year-old has taken to the Premier League like a duck to water, dominating the midfield in game after game, to drive Leicester to a comprehensive title win.
Those performances have naturally caught the eye of other teams, chief of them being Arsenal, as Wenger looks to strengthen his midfield considerably this season. With Mikel Arteta, Tomas Rosicky and Mathieu Flamini all leaving at the end of their contracts, central midfield is the priority for Arsenal in this summer transfer window, with Granit Xhaka expected to complete his move from Borussia Monchengladbach soon.
However, even with the arrival of Xhaka, Wenger is keen to strengthen his midfield further, to protect his squad from the inevitable injuries that will crop up through the season. Kante is seen as the ideal candidate to drive Arsenal to the title they failed to challenge for in the present campaign, and with that release clause of £20 million existing, Wenger will probably see the deal as a bargain.
The key will be to convince Kante to leave the Premier League champions to join the team that finished ten points behind the Foxes, and according to the Daily Mirror, that could happen, with Kante open to linking up with his compatriot Wenger at Arsenal.
If Wenger is able to pull off moves for Xhaka and Kante this summer, the Arsenal manager will then be able to concentrate on strengthening up front, with a striker desperately needed. One of the reasons behind Arsenal's tailing off in the second half of the campaign was a lack of goals, and if Wenger can find that marquee goalscorer in the summer, and add another central defender as well, the Gunners will go into the new campaign feeling they have plugged most of the holes.