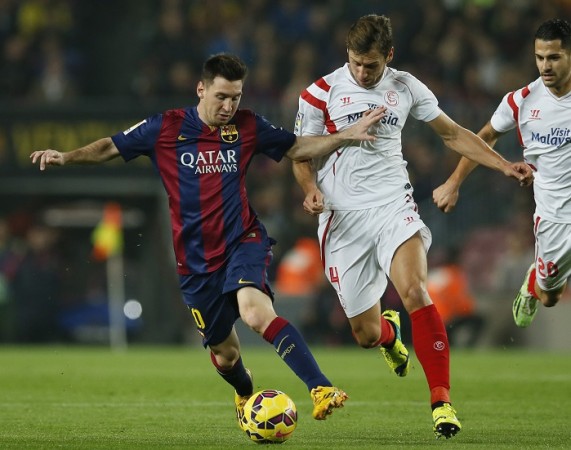 Arsenal finally have the defensive midfielder that they need after Grzegorz Krychowiak confirmed his move to London via Twitter....umm... only to then retract that statement and claim he was just kidding.
Krychowiak has been one of the names reportedly on Arsene Wenger's "OK so these are the defensive midfielders we can buy in January" list, with the Arsenal manager reportedly sending scouts repeatedly to take a look at the defensive midfielder who only made his move from Reims to Sevilla in the summer gone by.
It was reported Arsenal were ready to trigger Krywchowiak's release clause of around £23.5 million to get him to the Emirates in the January transfer window, and those reports just looked all that more real when the Poland international tweeted about an impending move.
"I reached an agreement with an English club, but the transfer can not be made official until all the parties have not put their signatures on the contract," he tweeted.
"I will keep you informed of the details later."
Twitter went crazy with that tweet, with the feeling of Arsenal have finally signed a defensive midfielder feeling met by, "OK, so is he good enough? Would William Carvalho or Morgan Schneiderlin have been better?"
But then those thoughts and tweets and discussions were quickly nipped in the bud by Krychowiak himself with this tweet: "Acclimatisation in Spain is going very well ... of course it was a joke!!!!! #VamosMiSevilla."
Krychowiak was only playing a joke on his Twitter followers on the Spanish equivalent of April Fool's Day -- 28 December.
Of course, what that tweet does suggest is that he is also aware of the apparent interest from Arsenal, which means a move in January cannot be ruled out entirely. If Arsenal do meet the release clause -- which is unlikely in January -- then Sevilla will have to allow the English Premier League club to talk with the player, who will then decide.
Krychowiak had last week admitted he sees Sevilla as an opportunity to make a step up to a bigger club, suggesting he would be open to a move to Arsenal if they do come calling.
"I needed to change club and be much more ambitious each year," he told AS. "I want to be playing in Europe, and the goal is to be in the Champions League.
"Sevilla are a great club but also a club from which you can make a jump to the highest level.
"If you are good at Sevilla, many sides become interested in you because there are always many opportunities to impress. When I changed club, I knew I made a step forward."
If Carvalho is indeed available for £20 million as has been suggested, then Wenger is more likely to make a move for the Sporting Lisbon midfielder, while a transfer for Morgan Schneiderlin, who will come with Premier League experience and will not be cup-tied in Champions League can never be ruled out either.
However, with Krychowiak continuing to impress for Sevilla, maybe a move for the midfielder might not be such a bad idea for Wenger, and the next time he suggests talks with a London club are taking place, it might not be a prank.