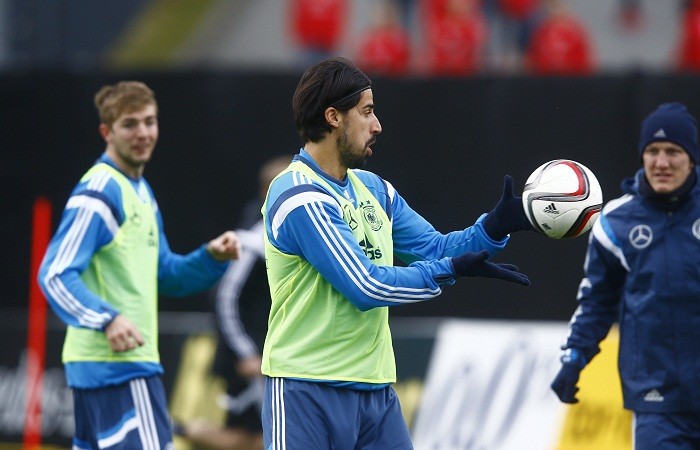 Arsenal might have missed out on the signing of Sami Khedira on a free transfer from Real Madrid, but it might, in turn, open up their chances further of completing a move for Arturo Vidal from Juventus.
Khedira is expected to sign for Juventus on a free after his contract with Real Madrid came to an end at the end of the season. Juventus have reportedly been in talks with Khedira's agent in Germany, according to the Guardian, and the midfielder is expected to undergo a medial sometime this week.
While Khedira was closely monitored by several English Premier League clubs, including Arsenal, Manchester United and Chelsea, the signing could end up working in Arsene Wenger's favour.
Vidal has been linked heavily with a move to Arsenal over the past few days, with several reports suggesting a deal is already in place.
With Juventus signing Khedira, or at least on the verge of signing Khedira, it does open up the possibility of Vidal leaving, as the Germany international is a similar player to the Chilean.
Of course, it could also mean that Paul Pogba is looking for pastures anew, as has been reported quite often.
Juventus general manager Beppe Marotta confirmed his team's interest in Khedira. "Khedira is an opportunity in this market because his contract is running out," he said. "We have thought about it and are still reflecting on it as we have to take in many factors."
However, Marotta also insisted the arrival of Khedira does not mean Juventus will sell any of their high-profile midfielders.
"We want to consolidate our position in Italy and in Europe," he added. "To do that we need to reinforce the squad, a squad that already is very strong. And that means that we want to keep the core of this group and our most important players."
Juventus face Barcelona in a mouth-watering Champions League final on 6 June, and once that match is done and dusted, his Vidal to Arsenal/Premier League rumour will only gather more pace, even with the midfielder set to play in the Copa America.